Malaga: Europa League ban upheld by CAS
Last updated on .From the section Football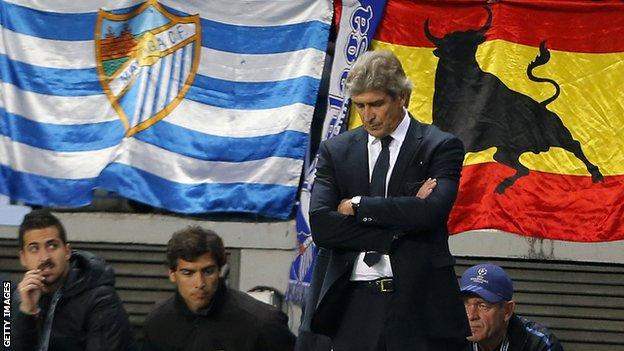 Malaga will not be able to compete in next season's Europa League after the Court of Arbitration for Sport (CAS) upheld Uefa's one-year European ban.
The second year was waived on appeal last month, but CAS has rejected their attempt to overturn the first.
Sevilla will take their European spot.
Andalusians Sevilla only ended in ninth, a place ahead of Rayo Vallecano, who were denied a Uefa licence to feature in European competition by the Spanish Football Federation because they had not yet agreed a timeframe to pay creditors.
In the wake of Malaga's punishment, Rayo have confirmed they will make an appeal of their own to CAS.
At the hearing in Lausanne, Switzerland, it was also determined that Malaga will have to pay the 300,000 euros (£255,323) fine originally given to them by Uefa's club finance judicial body.
Reacting to the decision, Malaga maintained "they had complied with the Fair Play regulations" but will now follow the "entire sanction imposed by Uefa".
Midfielder Isco - another target of Manchester City - tweeted that the punishment was "shameful, pathetic and unfair."
He added: "They treat us completely differently to other teams with a lot more (financial) irregularities and debts.
"Yet again they are taking away what we won on the pitch. Neither the players or the fans deserve this."
The European governing body is trying to stop clubs spending beyond their means through Financial Fair Play.
The fortunes of Malaga looked to have changed for the better when Sheikh Abdullah Al-Thani of the Qatari Royal Family was named owner in June 2010.
But problems emerged in 2011-12 after outstanding payments to other teams, staff and tax authorities were highlighted.
The situation saw a handful of players, including former Manchester United striker Ruud van Nistelrooy and current Arsenal midfielder Santi Cazorla, threaten legal action over unpaid wages.
The Spanish League (LFP) also imposed a transfer ban in January 2012 after the club missed a payment to Osasuna for Spain full-back Nacho Monreal, who later followed Cazorla to north London.
Malaga were knocked out of the Champions League at the quarter-final stage by Borussia Dortmund this season.