Bryan 'Pop' Robson wants ex-players to aid England strikers
Last updated on .From the section Football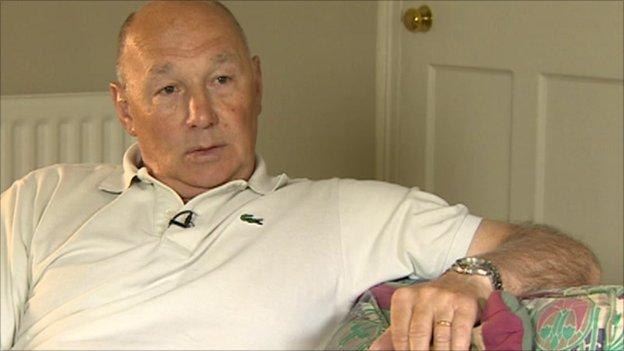 Former Sunderland forward Bryan 'Pop' Robson says ex-players such as Alan Shearer and Gary Lineker should be working within the England set-up.
The 67-year-old wants to see a similar system to goalkeepers, where retired international Ray Clemence trains the senior professionals in the squad.
"What amazes me is we have goalkeeping coaches, but not striker coaches," Robson told BBC Look North.
"People like Shearer and Lineker should be working with English strikers."
Robson, who also lists Newcastle United and West Ham among his former clubs, is concerned by the lack of young English talent across the Premier League - particularly in his position.
Southampton striker Rickie Lambert and Chelsea midfielder Frank Lampard were the joint-top English scorers in last season's top flight, aged 30 and 34 respectively.
"It's a worry to me in the English game," Robson said.
"I don't know where development is going to come from. The Premier League has spent a lot of money on academies but we need to keep working on it.
"It's 40 years since I was top goalscorer with 28 goals in 1973, and that now seems a lot of goals.
"But back then there were other English players scoring and competing up to that level."
In his most recent role, as chief scout at Sunderland, which finished at the end of last season, Robson watched football throughout Europe in the hunt for potential targets.
His disappointment at the England under-21 team's recent exit from the European Championships is heightened by the exploits of other European nations, notably the Netherlands, where he has spent much time observing players.
"The Under-21s have gone into a tournament understaffed without some of the best players," Robson added.
"Netherlands have taken their best squad, players like [PSV Eindhoven utility player and senior international] Kevin Strootman, fully-stocked as have Spain, but we're not taking the tournament seriously.
"We need to develop young players."