England will win a tournament in 2020s, says David Sheepshanks
Last updated on .From the section Football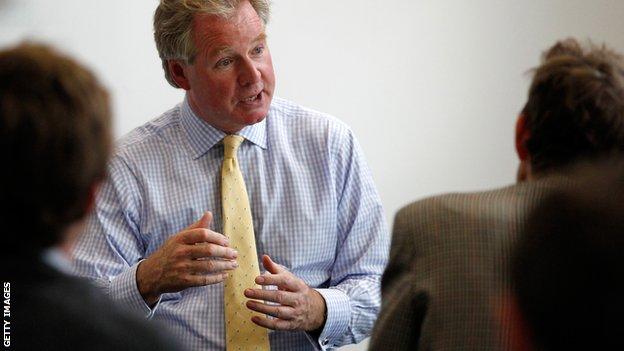 David Sheepshanks says England will win a major tournament within 20 years.
The chairman of St George's Park, the £105m national football centre in Burton, believes improvements in coaching will lead to success.
His comments come after England's U21 side was knocked out of the European Championship after just two games.
"If we continue doing the right things and supporting the investment in St George's Park, England will have its day," Sheepshanks told BBC Sport.
"We have not been specific about which year but sometime in the 2020s.
"That is what we all want. We are all going to judge St George's Park on are we going to win a World Cup, are we going to win a Euros, are we going to win a women's World Cup?"
Stuart Pearce's U21 side lost their opening two games against Italy and Norway to make qualification for the knockout stages of the current tournament in Israel impossible, while the senior side have never added to their 1966 World Cup triumph.
The playing time of English under-21s in the Premier League has also fallen to its lowest ever level.
According to new research by the CIES Football Observatory, only 35 England-qualified players aged 21 or under made appearances in the Premier League last season, the lowest figure since 2005.
In 2012, the Premier League introduced the Elite Player Performance Plan, a strategy designed to improve youth development and coaching, but it could be some time before the benefit of those changes are felt.
Former Ipswich Town chairman Sheepshanks believes St George's Park will play a vital role in improving the whole set-up, particularly coaching with plans to to greatly increase the number of coaches in the country to catch up on other European nations.
Speaking at the UK Coaching Summit at St George's Park, he said: "Progressively were are getting it right, but are we there yet? No.
"St George's Park is about a focus on coaching, raising the profile of coaching, investing in all age groups and the best teachers of the younger age groups as well as the senior, more elite level.
"We must not forget that we need to focus on quality more than quantity.
"We have to select our coaches correctly - coaches and future managers with the attributes to fulfil their aims and our aims."
Sheepshanks described the plan for St George's as "unashamedly long term" and called for patience from England supporters.
"I know people are frustrated about one or two results, particularly with the Under-21s lately," he said.
"The investment is here for the next 10, 12, 14 years.
"If you ask me 'David what about these Under-21s, does that mean that St George's Park is not working?' I would say nothing could be further from the truth.
"If we stand here in 10 to 12 years' time and we are not showing real signs of success then that would be a fair comment - but this is about the future."