Mido: Egyptian retires from football at the age of 30
Last updated on .From the section Football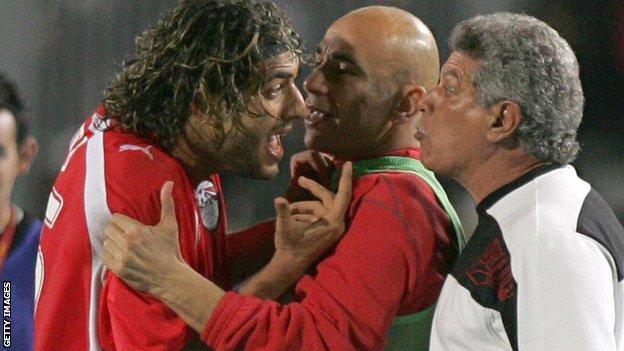 Former Egypt international Ahmed 'Mido' Hossam has announced his retirement from football.
The striker joined English Championship side Barnsley last June but left the club in January after problems with injury and fitness.
"Today, I announce that I'm quitting football," the 30-year-old wrote on his Twitter page.
"I want to thank all those who supported me during my football career, especially Egypt fans."
Mido's spell at Barnsley was an inglorious end to his 14-year playing career, with the former Tottenham Hotspur striker making just one appearance during his time with the club.
During his career, which began with Cairo-based Zamalek in 2000, Mido played for a total of 11 clubs in seven different countries.
After impressing as a 17-year-old with Zamalek, the striker moved to Gent in Belgium where he won the 2001 Ebony Shoe - the award given to the best player of African origin in the local league.
A move to Dutch giants Ajax Amsterdam swiftly followed where a league and cup double arrived in 2002, with Mido scoring in the cup final against FC Utrecht.
One year later, the tall and powerful striker was on the move again - joining French side Marseille in a deal that then made him the most expensive Egyptian footballer, with the transfer valued at US$13m (£8m).
After being outshone by Didier Drogba, Mido joined Roma in Italy where he lasted two years before arriving in English football for the first time, with Tottenham being the first of five clubs he would play for.
Spurs and Barnsley aside, he would also represent Middlesbrough, Wigan and West Ham.
A nomadic figure who often courted controversy, Mido's international career also had its highs and lows.
What should have been the zenith of his Egypt career was instead something of a low point after he was missed the final of the 2006 Africa Cup of Nations after falling out the coach earlier in the tournament.
In images that were beamed around the world, Mido furiously remonstrated with Hassan Shehata after the coach substituted the then 22-year-old in the semi-final win over Senegal.
The player had to be dragged away by coaching after being substituted by Amr Zaki, who went on to score the winner.
Mido was banned for six months from the national team, which went on to win the 2006 Nations Cup - their first African crown in eight years.
Egypt would also win the title in both 2008 and 2010, but Mido was absent from the squad on both occasions.