Besiktas and Fenerbahce on match-fixing charges
Last updated on .From the section Football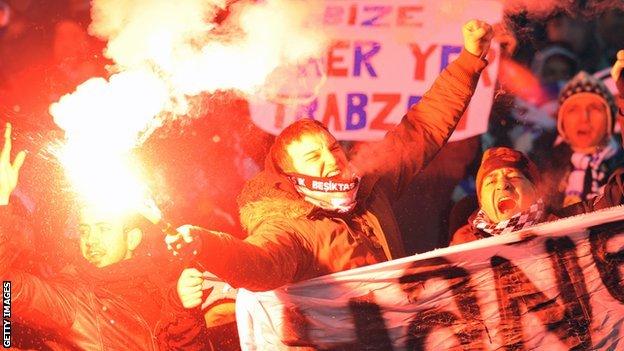 Uefa has opened disciplinary proceedings against Besiktas and Fenerbahce in relation to match-fixing.
Both Turkish clubs will face Uefa's Control and Disciplinary Body later this month.
Fenerbahce were banned from the 2011-12 Champions League because of match-fixing and club president Aziz Yildirim was jailed for six years as a result.
Steaua Bucharest will also face Uefa in relation to the admission criteria for participation in Uefa competitions.
Besiktas and two club officials are being investigated over match-fixing alleged to have taken place around the 2011 Turkish Cup final.
They will have their case heard, along with Steaua, on 21 June at the House of European Football in Nyon.
Fenerbahce and five club officials will face the same panel 24 hours later after the Uefa disciplinary inspector submitted his findings of an investigation.
In July 2012, 93 people - including club officials, coaches and players - were charged in a civil trial which centred around the club's league-winning run of 2011.
Yildirim was convicted of fixing six matches and offering payments to players or club officials.
The decisions of the panel will be announced during the week commencing 24 June.