Starring role for women's football in Northern Ireland

Last updated on .From the section Football
On Monday nights Tara Lynne O'Neill can be seen in the BBC2 detective drama The Fall. Wednesday nights? Well, try the Billy Neill playing fields near Dundonald.
The Belfast actress is a huge fan of women's football in Northern Ireland and rarely misses a match night in the thriving Premier League.
It all came about when she was working on a play she is writing about women's football in Belfast during World War I.
She went along to a couple of the games - and now she's hooked.
"The girls' passion and enthusiasm are infectious and I have just become one of their biggest supporters," said O'Neill, who has also appeared in the ITV police drama Line of Duty with Adrian Dunbar and the BBC soap Eastenders as nanny Joanne Ryan.
"Once you get to know the girls, you cannot help but start shouting and screaming from the stands.
"It is a piece of theatre and that is why I enjoy it."
There are now 50 senior women's teams playing in the Northern Ireland Women's FA set-up, with the season running from April to August.
"We are attracting more teams and sponsors, so it is an exciting time for the women's game here," said Sue O'Neill, who has been chairwoman of the NIWFA since January.
"There is a great mix, with students and mothers playing, it is a football family.
"The girls are completely dedicated. They have to raise money and pay to play, but there is also a great social life around it."
Back to Wednesday night's action, then, a bit of a crunch game at the Billy Neill complex on a superb, sunny night.
It is a clash between the top two teams in the Premier League - Glentoran Belfast United and Crusaders Strikers - with the Glens winning 2-0 to cement their place at the top of the table.
Crusaders, as last year's winners, are looking forward to some European competition later this year.
"One of our teams goes into the Champions League each season," added chairwoman Sue O'Neill.
"Indeed, Crusaders are hoping to host their group and it would be brilliant to have clubs from other countries coming here to play."
Watching the Glens and Crues going head-to-head in a competitive clash is Alfie Wylie, the national women's coach for Northern Ireland.
He is happy the top clubs now have women's teams - however, he feels there is room for improvement.
"It is great to see the senior clubs take an interest, but they could do more to promote their women's teams and really make them part of the fabric of the clubs," he said.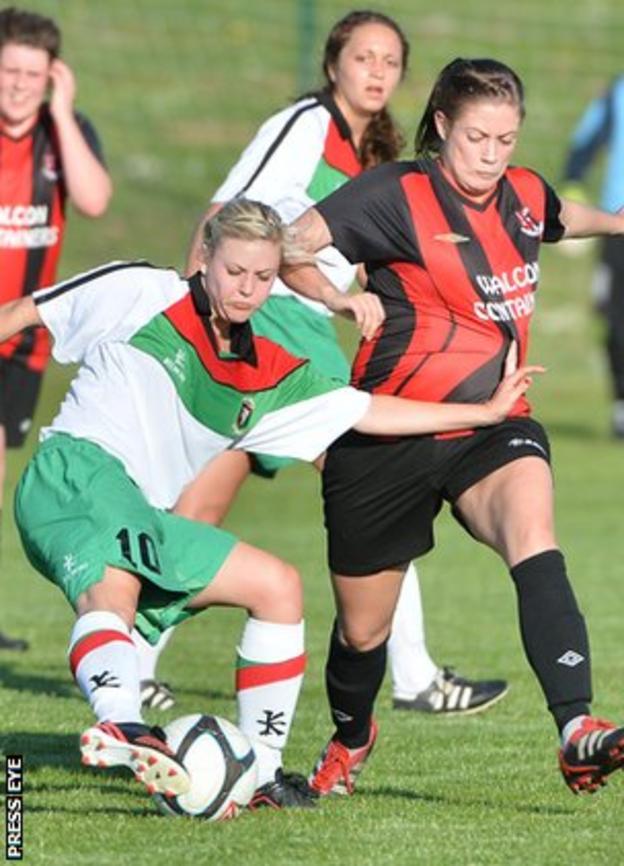 "If supporters come along, they will be surprised at the high standard of the football.
"It is rewarding for me seeing young players improving.
"Our Under-17s knocked England and Italy out in their mini-group. If the boys had done that, everybody would have been screaming about it."
Alfie's partner is Coleraine player-coach Ally Nicholl who also has a busy day job in Belfast - and a handful at home in nine-month-old son Zach.
"I enjoy being busy and get lots of family support," said Ally, who is a new business manager with Invest NI.
"I just try to fit in as much playing and coaching as I can.
"And the international girls are a committed bunch. Some of them have part-time jobs and lose pay because they need to take time off to go on trips for away fixtures."