SFA to vote on new anti-discrimination rules
Last updated on .From the section Football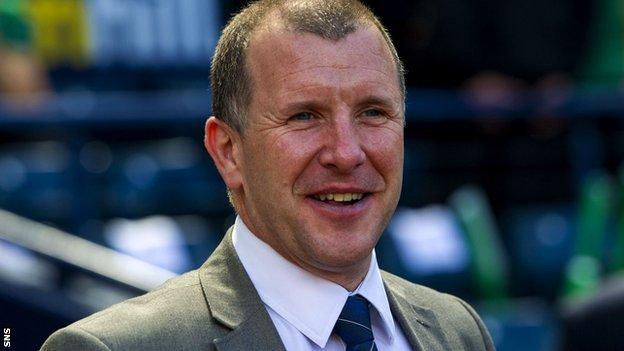 Stricter regulations to eliminate racism and sectarianism are to be put to a vote at Tuesday's Scottish Football Association's annual meeting.
Member clubs would no longer be able to avoid sanctions by arguing that they had taken "reasonably practicable" steps to avoid such behaviour.
There would be "strict liability" on clubs should fans or staff offend.
SFA chief executive Stewart Regan said: "Currently, the regulations are not as robust as those adopted by Uefa."
Regan and SFA president Campbell Ogilvie attended the Fifa congress two weeks ago, when measures to eliminate racist and other discriminatory behaviour - such as a minimum five-game ban for players, points deductions and closure of stadia - were all discussed.
Rangers and Celtic have both fallen foul of such regulations during European competitions.
And Regan said the tighter domestic rules were required to implement a "zero tolerance" stance on racism and other forms of discriminatory behaviour.
"The ability to take stronger action should act as a deterrent, as it does when you look at instances during European matches," he said.
"Essentially, the resolution is about asking the members: 'what do you want for the future atmosphere inside our grounds?'."
A total of 45 resolutions will be discussed at the Hampden meeting - with a 75% majority required to pass each motion.
SFA members will also vote a plan to do away with associate memberships of the SFA.
Currently, any club applying to join the body must serve five years as an associate member before they are granted full status, but now the SFA will only grant full memberships providing applicants meet certain criteria.
Following arguments about whether Rangers were a new club or are the same club under new owners after their liquidation last year, a measure to expand the definition of a club to include their owner or operator will also be considered.
Ahead of a vote on a Scottish Premier League proposal being considered on Wednesday by Scottish Football League clubs to restructure the four senior leagues, SFA members will vote on the creation of a new feeder division.
A new Lowland League is seen as a key part of the pyramid structure recommended in the McLeish Review of Scottish Football.
If approved, a new could be formed in time for the start of next season, clearing the way for play-offs to the bottom tier of senior football.
"It is a really exciting development and something the Scottish FA has supported as part of the five principles for league reconstruction - a single league body, fairer financial distribution, parachute payments, play-offs and the pyramid," said Regan.
"It is important that we recognise and support those clubs currently out with senior football who aspire to reach the top.
"We have seen it most recently with the rise of Inverness Caledonian Thistle and Ross County from the Highland League, but do we really want a situation where the only way those clubs can join is at the expense of another club who has gone bust?
"There has to be a meritocracy in the bottom tier of the senior game and the pyramid will provide greater competition."