Roger Palmgren resigns as Namibia coach after death threats
Last updated on .From the section Football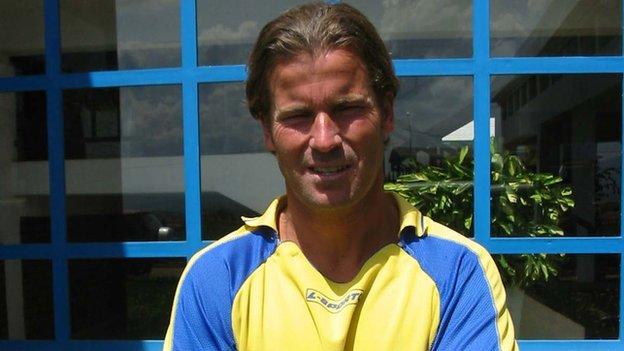 Roger Palmgren has quit as Namibia coach after claiming he and his family had received death threats.
Namibia Football Federation president John Muinjo told BBC Sport: "Roger emailed us to say that his life was under threat, and based on that he tendered his resignation.
"It would have been good for us to investigate this but he did not talk to us prior to his resignation."
Muinjo added that he was unsure if the threats were genuine.
"Roger did not raise the issue with us so we have not been able to try to find out who is responsible for these threats - we have not had a direct discussion with him," Muinjo said.
"We have never had such a problem before and I am worried - if it is true. I'm not 100% sure if it is true, it would have been good if we had had the chance to investigate."
The Swede's resignation comes just 48 hours before the 'Brave Warriors' host Group F leaders Nigeria in a must-win 2014 World Cup qualifier.
Namibia have to collect maximum points to keep alive their slim hopes of making the 10-nation final elimination play-off round.
They trail group leaders Nigeria by four points with two rounds of matches left.
Former Sierra Leone and Rwanda coach Palmgren, 50, took over only last month and his first competitive outing was a 0-0 World Cup qualifying draw in Malawi.
National team assistant coaches Ricardo Mannetti and Ronnie Kanalelo have been put in charge for the Nigeria game.
Mannetti told BBC Sport: "I've been in football for a long time and I'm used to coaches being changed or fired... but I didn't see this one coming.
"I had a very good relationship with Roger. His knowledge has of the game and of African football was really great and I was looking forward to tap into that to make me a better coach.
"But I have to adjust quickly, which is what I am doing, and I have to adjust the boys' mind-set as well to get them focused on the game against Nigeria ahead instead of losing a coach.
"I told them that one has to do away with this myth that players play for coaches - I don't believe in that. Coaches are replaceable but the Brave Warriors will remain.
"I want to instil in the players that they have to play for their country, for the jersey and the pride of the nation."