What's gone wrong with England's Under-21 side?
By Alistair Magowan
BBC Sport
Last updated on .From the section Football522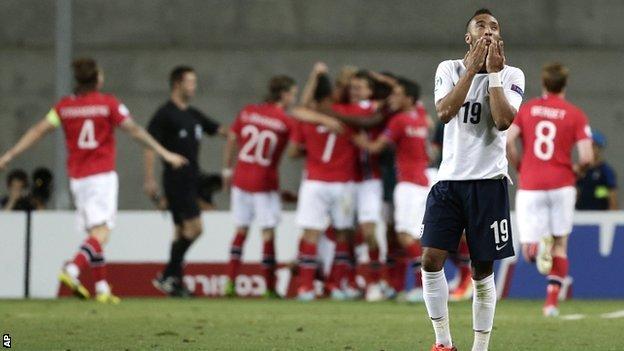 For the second consecutive tournament, the England Under-21 team will be leaving the European Championship after the group stage.
Expectations were high when Stuart Pearce's squad headed out to Israel, as they had been unbeaten since November 2011 and won their last nine games without conceding a goal. Defeats by Italy and Norway have led to England's elimination though - before they even played their final group game against the hosts on Tuesday.
The disappointment comes after a season in which the number of English under-21s playing in the Premier League has reached a new low.
So is the problem simply one of lack of opportunity, or are there other contributing factors?
Does the squad lack depth?
England's starting XI for their opening group game against Italy last Wednesday contained only four players who could be considered regular contributors in the Premier League last season: captain Jordan Henderson, his Liverpool team-mate Jonjo Shelvey, Southampton full-back Nathaniel Clyne and Tottenham centre-back Steven Caulker.
And after his team lost, Pearce was quick to suggest that his side lacked the necessary calibre.
Much was made of the absence of those younger players who travelled for the England senior team's friendly against Brazil. Pearce cited Theo Walcott as an example of a player who had graduated to the senior side early instead of doing their service for the younger age groups.
But with about 60% of the Premier League's players coming from overseas, is it any wonder that England manager Roy Hodgson is tempted to call up talented youngsters to the senior side as soon as they show promise?
"To have a successful national team these days requires that you have a minimum of 50 players who are playing Champions League football and on whom you can call for your squad," Howard Wilkinson, the former England Under-21 manager and former Football Association technical director, told BBC Sport.
"If that's the case with the senior team and you move down the scale and the numbers decrease dramatically, then of course you are going to have a problem.
"The pool of players we can draw from to play under-21 and senior football at the same time is not as big as it needs to be.
"The fundamental problem is that the opportunity [in top-level club football] for English players is increasingly limited. Therefore it stands to reason that as current players get older, there is a decreasing circle of players to draw on."
Are the players good enough?
Squad depth aside, can England put out an under-21 team that is good enough to compete at the Euros?
Former Tottenham manager David Pleat, a Premier League technical match observer, has watched both of the England Under-21 games in Israel and believes the players have lacked creativity.
Against Italy, England struggled for possession; against Norway, Pleat says, they were just not clever enough with the ball.
But Wilkinson brings it back to the question of squad depth and an inability to cover for key absences.
"The team that turned out for the finals wasn't the team that qualified," he said. "No disrespect to the team there, but it is widely accepted that there were good players who weren't in Israel."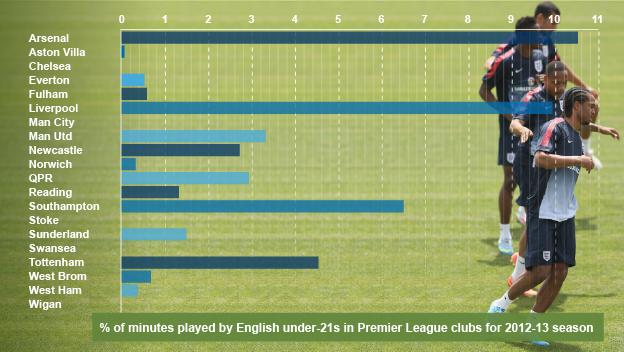 But former England defender Danny Mills, who played under Pearce at Manchester City, disputes this.
"Pearce used [the player criticism] as an excuse and I don't think he was right to blame the players," said the former right-back, who won 19 caps for the senior England side.
"Jack Butland is a good goalkeeper. Steven Caulker, Danny Rose, Connor Wickham, Jonjo Shelvey and Jordan Henderson all have Premier League experience.
"Thomas Ince has scored goals in the Championship and is worth a lot of money, Manchester United paid £15m for Wilfried Zaha and he will play in the Premier League next season, while Josh McEachran has played at that level too."
Do young players lack tournament experience?
New measures introduced via the Premier League's Elite Player Performance Plan will attempt to address concerns about quality - but would some of the players have been better prepared if they had gained international tournament experience with the England Under-20s two years ago?
The Liverpool trio of Shelvey, Jack Robinson and Andre Wisdom, as well as Chelsea's McEachran were among more than 20 players who withdrew from the 2011 Under-20 World Cup in Colombia.
The tournament was in pre-season but former Liverpool and England striker Michael Owen said he learned a lot when competing in the 1997 competition in Malaysia before he broke into the full squad before the 1998 World Cup, and believes experience at age-group tournaments is invaluable.
"I played at every youth tournament there was," he said. "I felt the benefit of that when I went into the national team, as it felt like a seamless transition. I felt part of international football, knew what it was about and I had the experience."
England's early exit in Israel prompted outgoing Football Association chairman David Bernstein to say he would consider a policy of bringing players back into the England Under-21s even after they have appeared for the senior side.
But with Hodgson saying recently that he believed graduation to the senior squad should be a one-way street, new chairman Greg Dyke will be left with a tricky item in his in-tray when he starts his new job on 13 July.
Is Stuart Pearce the right manager?
Pearce says he wants to continue in his role when it comes up for discussion once the Euros are over and Bernstein says he has been "impressed" by the former England left-back's six-year reign.
His record stands up to scrutiny in qualifying for four European Championships, but having led England to the semi-finals in 2007 in the Netherlands and the final against Germany in 2009, Pearce's side have failed to win any of their five games at the finals since.
Wilkinson said: "Up until this tournament, [Pearce's] record in terms of qualifying has been second to none. And the manager can only work with the tools at his disposal."
Mills, though, maintains questions must be asked of his former boss.
"To have a great run through the qualifying competition and fail at tournament level, you have to look at the reasons for that," he said. "Going to a tournament is not easy; you need a different mentality - but that has to come from the manager and the way he wants the team to play.
"I thought there was going to be a change in philosophy, playing football in an attractive style. I haven't seen that much from the team. Have we seen an improvement in the squad in the five or six years he's been in charge? I'm not so sure."
Mills accepts that the number and quality of players available lags behind other European countries, and perhaps even England Under-21 teams of the past.
Given that, he says, England should use the European Championship as a "development school" with the emphasis more on a learning experience than on expectation of immediate success.
"The players need to have the confidence to play. If they are going to get slaughtered and be told they didn't perform, that puts more pressure on them.
"We should be playing out from the back - and if it doesn't work, so what?
"To win tournaments you have to keep possession, so let's say to these players, let's keep the ball, and then work out how are we going to use it and at least try to play in a different way."