Marton Fulop recovering from tumour operation
Last updated on .From the section Football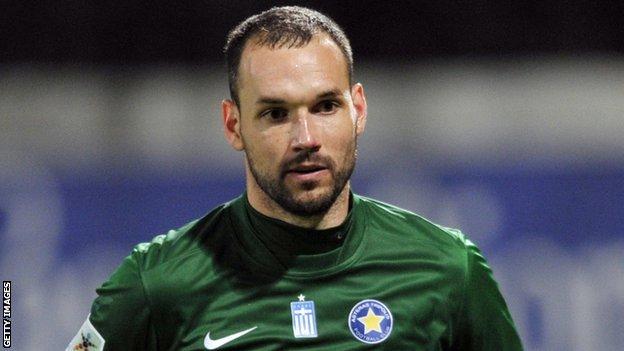 Former Sunderland and Ipswich Town keeper Marton Fulop is recovering after having a tumour removed from his arm.
The Hungarian, who played for Greek club Asteras Tripoli last season, is undergoing post-operative treatment.
"I am sure that after a few months I will be ready both physically and mentally to continue playing football," the 30-year-old said in a statement.
"I'd like to train between treatment courses, as the doctors have said this is fine and heartily recommend it."
Fulop moved to England in 2004 when he was signed by Tottenham but, after loan spells at Chesterfield and Coventry, he left White Hart Lane without making a senior appearance to join Sunderland.
He made 47 appearances for the Black Cats and had further loans at Leicester, Stoke and Manchester City, before a 38-game stint with Ipswich and a short spell at West Brom.
In February, he was sidelined by an initial problem with his arm, that led to an operation in April, but a malignant tumour was discovered and subsequently removed in a successful operation earlier this month.
"My contract in Greece has come to an end and with a successful season behind me there were some great career opportunities put in front of me," said Fulop, who has won 24 caps for Hungary.
"For the time being I cannot dwell on these, and I wouldn't want to put a club's management in such an awkward situation that they have to deal with my problem."