England Under-21 coach Stuart Pearce has impressed FA chief
Last updated on .From the section Football389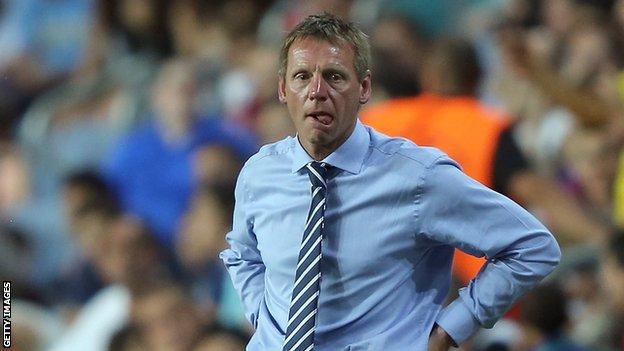 Football Association chairman David Bernstein says he has been "impressed" with Stuart Pearce ahead of talks on the England Under-21 coach's future.
Pearce is out of contract at the end of the month and a decision on whether he will continue in the role is expected to be made in the next two weeks.
He and his players have been criticised following England's early exit at the European Under-21 Championship.
But Bernstein said: "Overall I've been very impressed with him, absolutely."
Former Manchester City manager Pearce has been in charge of England Under-21s for the last six years, leading them to the European Championship semi-finals in 2007 and the final in 2009, where they lost 4-0 Germany.
But Saturday's 3-1 defeat against Norway in Israel means they have been eliminated at the group stage in the last two Championships.
Pearce was critical of his team afterwards, saying his players had not done themselves credit.
Former Tottenham manager David Pleat, who was at the game for BBC Radio 5 live, said Pearce's team had not been good enough, while ex-England manager Graham Taylor said the Premier League's success was behind England's failings.
And Bernstein, who will be replaced by Greg Dyke next month, says Pearce has a good record in the job, qualifying regularly for tournaments.
However he was coy on the former Nottingham Forest and England defender's future in the role.
"We will be sitting down as a Club England team in the very near future, I suspect within the next couple of weeks, to make that decision," Bernstein added.
"I think his record has been good. He has won an awful lot of matches, qualified regularly for tournaments.
"This tournament has been disappointing.
"But I don't think it should be taken totally out of context in terms of his long-term deliveries, because on the whole he has delivered very well."
Pearce said before the Norway defeat that England do not give themselves a chance of winning tournaments when key players cannot be selected.
He was unable to take several players to Israel because of their senior team commitments for the 2-2 friendly with Brazil on 2 June, injuries or an unwillingness to be selected.
But Bernstein defended the FA's decision to let England players forgo the tournament in order to play friendlies for the senior team.
"I think in this particular case, a development match in Brazil building up to a World Cup was very important," he said.
"I would certainly defend what we did in having the strongest squad that Roy Hodgson could get in Rio de Janeiro.
"You can only balance your resources and play them the best way you think is possible. Hindsight is a great thing in these sorts of situations."