England football team harmed by Premier League - Graham Taylor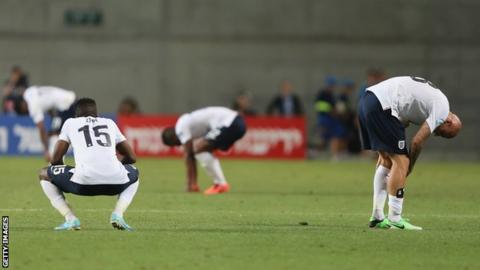 Former England manager Graham Taylor says the success of the Premier League is hindering England's national team.
The England Under-21s exited the European Championship at the group stage on Saturday.
Research has shown that the playing time of English players under the age of 21 in the Premier League has fallen to its lowest-ever level.
Taylor said: "Commercially the Premier League has been a major success but at the expense of English players."
According to new research by the CIES Football Observatory, only 35 England-qualified players aged 21 or under made appearances in the Premier League last season, the lowest figure since 2005.
The England senior side has not gone beyond the quarter-finals of a major tournament since 1996 and still face a challenge to qualify for next year's World Cup.
Taylor told BBC Radio 5 live's Sportsweek: "I think we have all seen this coming. We have got this tremendous amount of money that has now come into football.
"It means the top four or five clubs are not looking for the best players in England, but the best players in the world because they can afford to buy them.
"At Manchester City, if Manuel Pellegrini comes in, I'll be amazed if he signs an English player."
The outgoing Football Association chairman David Bernstein said last week he believes there is a "desperate need" to increase the number of English Premier League players.
He said only 30% of players in the top flight were eligible for England, compared to more than 50% in Germany.
Norwich fielded 14 English players out of the 27 they used last season, the joint highest percentage in the Premier League, and they also won this year's FA Youth Cup.
Norwich manager Chris Hughton says it is important "to have a core of English players".
He added: "We have a philosophy of trying to bring through the best young players."
But Hughton, whose side finished 11th in the Premier League last season, explains that it is not easy for every manager to prioritise selecting English players.
"It becomes more difficult because the top clubs have wonderful squads to choose from and international players on the bench," he said.
"If you're a club in that bottom eight of the division, it's about making sure that you can go into every game competitively and trying to win games
"There is so much pressure on the managers and their remit is to do the best job they can in the shortest period of time."
Hughton does believe that the Premier League is trying to improve the number of quality English players coming through.
He said: "The Premier League and the academies are working very hard and there are more people trying to get the coaching badges required. We are making great strides that way."