World Cup 2014: South American qualifying at crucial stage
Last updated on .From the section Football103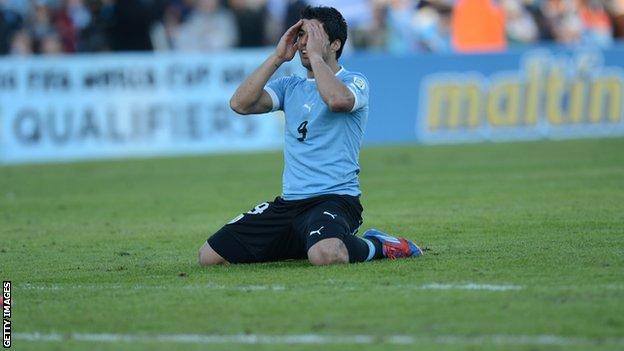 South America can be cruel on visitors. In the continent's World Cup qualification campaign there have been 30 wins for the home side - and only nine for the visitors.
There are long distances to travel and intimidating atmospheres at the end of them. There can be large temperature differences and there is also the question of altitude.
On Tuesday, for example, Argentina have to climb 2,800m up the Andes to take on Ecuador, who boast a 100% home record in their mountain fortress of Quito. It will be a tough task, especially with Lionel Messi short of match fitness. But, with qualification all but mathematically assured, it is a game Argentina can afford to lose.
That is emphatically not the case for some of the other away sides in action on Tuesday, especially those caught up in the battle to finish fifth, and play off against opponents from Asia.
The play-off slot is no mere consolation prize. In the last campaign (indeed in the last three) it went to Uruguay - fifth in South America in 2009, they came fourth in the world a year later. Their success in South Africa in 2010 was followed by a Copa America win in 2011, and they were out of the blocks fast when 2014 qualification got under way. A year ago they were second in the table with a game in hand, and a place in Brazil seemed theirs for the taking.
Then the wheels started falling off. In six rounds this season they have managed two home draws and suffered four heavy away defeats. The side has suddenly grown old together. A new generation was supposed to use the London Olympics as a springboard to the senior side, but no reputations were enhanced in a desperately disappointing campaign.
Coach Oscar Washington Tabarez has stayed loyal to his group of players but has tinkered away with his tactical approach. In friendlies at the turn of the year he dropped one of his defensive midfielders and opted for more elaboration. It looked promising - but hopes were dashed with two more poor performances when the qualification campaign resumed.
The stakes could hardly be higher when Uruguay next take the field. On Tuesday they are away to Venezuela in a clash between direct rivals for the play-off spot. If Uruguay win, they will go ahead of their opponents on goal difference. Lose, and they will be six points off the pace with just four games to go.
How will Uruguay play it? Tabarez could be forgiven for being more confused by the evidence of last week's 1-0 win over France in a friendly in Montevideo. His side came out to play and were taken apart in the first half, when the lack of pace of captain and centre back Diego Lugano was frequently exposed. France could easily have been four goals up.
At the interval on came Luis Suarez and Gaston Ramirez. Within three minutes the Premier League pair had changed things round and put Uruguay ahead. The range of passing of Southampton midfielder Ramirez stretched the opposing defence, and the thrust of Liverpool striker Suarez did the rest. And after Suarez had scored, Uruguay could sit deep and use Ramirez to hit long.
But on Tuesday they will be without their star man Suarez through suspension.
Uruguayan triumphs often come with a dose of suffering along the way. Now they will really have to dig deep.
As will Peru, who with a couple of home victories have hauled themselves into contention for that much-contested play-off slot. In contrast to Uruguay, then, they are acquiring some momentum at the right time. And, for once, their dangerous collection of attacking players are all fit, with an interesting new generation of strikers emerging.
But if Peru are to make a late run for a World Cup place they are in urgent need of improving their away form. Towards the end of last year they managed a 1-1 draw with Bolivia at the extreme altitude of La Paz. It brought to an end a run of 16 consecutive away defeats in World Cup qualification. They have gone 20 away matches without a win - the last one came nine years ago, 3-1 away to Uruguay, when Nolberto Solano got on the scoresheet.
One of the hardest places to bring such a bad streak to an end is Barranquilla, where in searing afternoon heat Peru visit a Colombia side whose morale is soaring after holding Argentina to a draw in Buenos Aires. Colombia are closing in on their first World Cup since 1998, and in front of their own fans they can stroke the ball around with joyful panache. Peru can clearly cause problems on the break, but they will have to retain possession far better than they did on Friday, when they made hard work of retaining a 1-0 lead against Ecuador.
It could go to Peru or Uruguay, and keep them in the fight, or it could go to Argentina, and confirm their place in Brazil with four rounds to spare - but whoever manages it, a 10th away win in South America's World Cup qualification campaign will be well worth celebrating.
Comment on the piece in the space provided. Questions on South American football to vickerycolumn@hotmail.com and I'll pick out a couple for next week.
From last week's postbag;
Uruguay - this generation of players in particular - thrive in cup tournaments, having been the best South American team in both the last World Cup and Copa America (champions). Also, winning a final in Maracana, especially if it is against Brazil, would wrap up this generation's role in the history of Uruguayan football as legends for a long time. Just how motivated are the players to spring a surprise on the usual favourites?
Fernando Camargo
There is no doubt that Uruguay's priority is Tuesday World Cup qualifier, and attitudes towards the Confederations Cup will be shaped by what happens in Venezuela.
A year ago, when Uruguay were cruising, the Confederations Cup looked like an inconvenience. More recently, it has appeared as an opportunity to regroup. If they lose on Tuesday it might become something else - a swansong for this particular team.
An era is coming to an end for Uruguay, either in the World Cup or this year. The three Diegos - Lugano at the back, Perez in midfield and Forlan up front - will soon be bowing out, along with some of the other senior players. If, after Tuesday, 2014 looks unlikely, then they may well be motivated to leave the international scene on a high.
What do you make of Paulo Henrique Ganso? Two years older than Neymar, is he a Brazilian player who has reached his potential in South America and is actually ready for a European move?
Joseph Izzard
A lovely player to watch, an old-style playmaker full of languid left-footed elegance. But, perhaps because players of his type are so rare these days, he suffered from an inflated reputation early in his career. Before he had really done anything he was being talked about as the best in the world in his position, and it went to his head a little bit. He has also suffered injury problems with both knees, and at the moment, now with Sao Paulo, he is still some way off reaching his potential.