Scotland must build on unity and graft after Croatia win

By Alasdair Lamont
BBC Scotland in Zagreb
Last updated on .From the section Football51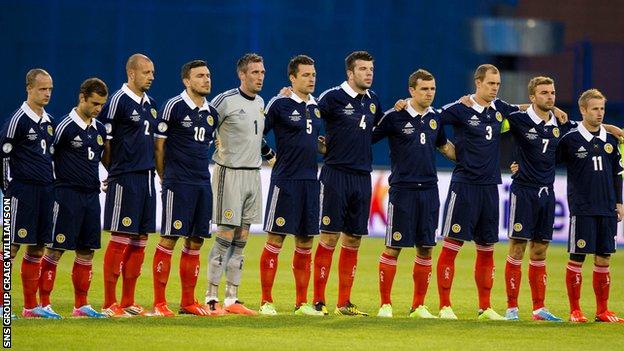 In the immediate aftermath of the hugely unexpected win in Croatia, Scotland's players were entitled to bask in a bit of glory.
The euphoria of such a superb victory should have put a spring in their step as they conducted the post-match interviews and made their way to the bus that would take them to Zagreb airport.
But though there was certainly a sense of satisfaction, the overwhelming feeling exuded was one of utter exhaustion, such was the effort - both physical and mental - expended in gaining the three points.
This was typified by the captain James Morrison, who emerged from the dressing room with barely enough energy to answer my questions for BBC Radio Scotland about the momentous occasion in the Maksimir Stadium.
Morrison's role for West Bromwich Albion is typically an attacking, creative one, but on Friday he, along with the superb James McArthur, broke up play, harried and hassled the increasingly desperate Croatians - giving everything for the Scotland cause.
Effort is not something that has been lacking in recent Scotland performances, which have more often than not ended in defeat and disappointment.
But if ever the hackneyed sporting cliche about giving 110% rang true, it was on Friday night in Zagreb.
To coin another cliche, none of Gordon Strachan's players left anything on the park as they stuck to their task with a dogged determination, which left them running on vapours by the full-time whistle.
But it would be wrong to attribute the win solely to hard work and desire, because Scotland at last showed they can be a team that is the sum of its parts.
For McArthur, Morrison, Robert Snodgrass and Shaun Maloney are not playing in the English Premier League by accident. They are integral to their clubs' achievements and have earned the right to display the belief in their own ability that finally came to the fore in Zagreb.
Add to that an outstanding defensive performance by Russell Martin and an inspired display by Alan Hutton and you have the basis of why Scotland secured a famous triumph.
The crucial thing is that these players continue to do that for their country, because it would be equally wrong to suddenly assume that a victory over the team ranked fourth in the world equates to an immediate upturn in fortunes.
In the cold light of day, this was a performance and result achieved when it scarcely mattered and it will matter even less if it's not used as a platform upon which further successes are built.
The next challenge for Strachan and his squad is the small matter of a friendly against England at Wembley in August.
Beyond that there are further World Cup qualifiers at home to Belgium and the Croatians again, with a trip to Macedonia sandwiched in between.
From a position where Scotland supporters could have been forgiven for wondering where the next win would come, there will be renewed hope the team can earn positive results from all four of those matches.
Imagine how a win at Wembley, coupled with Friday's result, would hearten the nation and instil an even greater sense of self-belief in a set of players who looked bereft of such a quality as they slumped to defeat in Belgrade three months ago.
Strachan acknowledged that the position of Scotland manager was one of great power - the power either to make an entire country happy or sad.
He's certainly gone some way to putting a smile back on the faces of the nation's football supporters. Whether that becomes a full-blown grin hinges on his ability to continue this week's good work.