Robbie Keane plays down Republic of Ireland record
Last updated on .From the section Football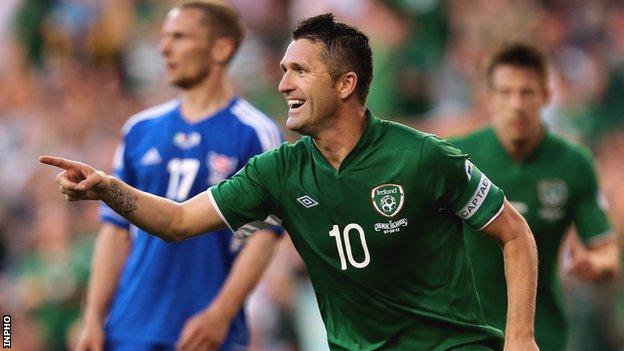 Robbie Keane was more delighted to beat the Faroe Islands in a World Cup qualifier than to become the Republic of Ireland's most capped player.
The striker scored a hat-trick in the 3-0 victory in Dublin as he won a 126th cap to surpass goalkeeper Shay Given.
"There was a lot of talk about getting the record but that was almost in the back of my mind," said the 32-year-old.
"It was about playing the game and playing in the right manner and getting the right result for the team."
Keane ensured his side would be celebrating a triumph with goals in the fifth, 55th and 81st minutes to extend his tally as the Republic's record goalscorer to 59.
"There was a lot of fuss before the game, the important thing obviously was concentrating on playing football, we did that and got the three points so everybody's happy," Keane told Sky Sports.
"For me it was just another game. Certainly it was a special occasion for everybody involved, my family, for me I was just concentrating on the game and getting the result for the lads."
The victory lifts the Republic up to third place in Group C on 11 points, level with second-placed Austria and five behind leaders Germany.
The Republic now face their two biggest challengers for second spot, Sweden and Austria, in their next two matches in September.
"We know exactly what we have to do, we have to win our games. The two games coming up are massive for us, it's probably make or break," added Keane.
Republic manager Giovanni Trapattoni lauded Keane's continuing contribution, adding that the striker was the "best Irish player I have known in 30 years".
"I wish to congratulate him because he scored. At the moment, he is in good form," said Trapattoni.
"But I repeat what I said yesterday, he is also one of the best players in Europe."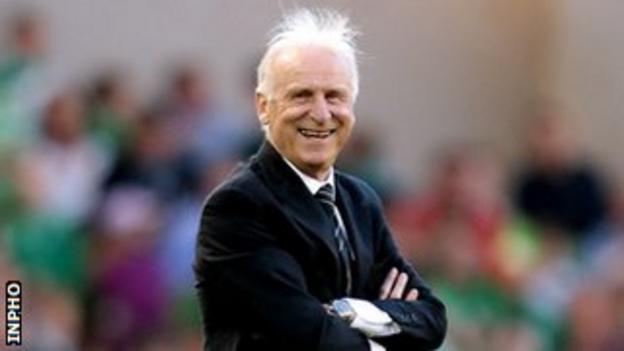 While the Republic missed several other great chances, Trapattoni was content with his team's display.
"Obviously this evening, it was very, very important to win the game and we won.
"People want five, six, seven, eight goals - it's not so easy, but we played well, particularly in the first half."
Austria are now leading their race for second place in the group after beating other contenders Sweden 2-1 in Vienna on Friday night.
Trapattoni said that he wasn't surprised by that result.
"Austria are a good team. I was in Austria and I know many players."
"Without a silly mistake, we could have won (against Austria in March) but they are a good team and they have good players.
"But we are at the same level. Without this silly 90th-minute goal, we deserved to win and we could have been in second place behind the Germans."