Jose Mourinho: Final 24 hours of first spell at Chelsea

Last updated on .From the section Football247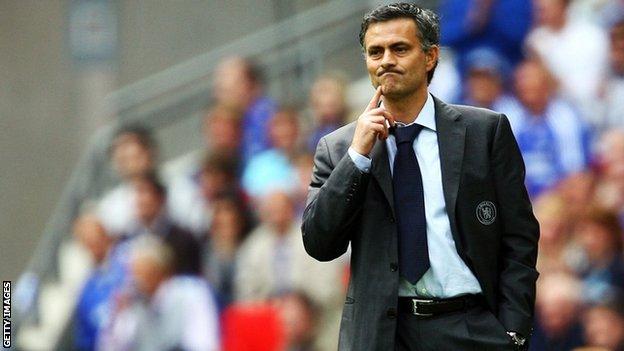 The return of the Special One has stirred up old passions at Stamford Bridge like never before.
To the fans, memories of the trophies, medals being thrown into the crowd and the thrill of being top dogs in England remain as vivid as ever as Jose Mourinho begins his second spell at Chelsea.
His first news conference on Monday will prompt a media maelstrom like few others. The passing of time has done little to dim those images of glory and success, or dull those famous phrases he conjured as English football fell under his thrall.
Mourinho may have delivered Chelsea's first league title for half a century - and much more besides - but the subsequent differences, difficulties and discord have largely been forgotten.
The only simple thing about the final six weeks of that first spell was the statement that Chelsea released in the early hours of 20 September 2007. It read: "Chelsea and Jose Mourinho have agreed to part company by mutual consent."
Nothing more, nothing less.
The final 24 hours of Mourinho's reign began with a phone call on the morning after Chelsea's turgid 1-1 home draw with Rosenborg of Norway in the Champions League Group B opener.
He was summoned to Stamford Bridge for a meeting at 2pm.
It later emerged that club owner Roman Abramovich had postponed an overseas business trip to attend. Even then, Chelsea insiders thought the sudden meeting had more to do with the woeful attendance of 24,975 from the previous night than the immediate future of the manager. They were wrong.
Abramovich, chief executive Peter Kenyon and director Eugene Tenenbaum were all present as Mourinho was told of the board's frustrations. Why had results dropped off? Why could the team not play a more attractive style? Why did Mourinho continue to embarrass the club with his public outbursts?
Few know how Mourinho behaved in that meeting but the suggestion is he dared the board to sack him and find another manager who could bring them the success he had.
A few hours later, Mourinho gathered with the bulk of his squad outside of the stadium for the short journey to a Fulham Broadway cinema for a screening of Blue Revolution - a film about the club's new era of success.
Frank Lampard, John Terry and Petr Cech were not present, having already received messages from their manager telling them of his expected departure. Players who were present were bemused as their manager walked the length of the team bus shaking each of their hands without a word of explanation.
Mourinho did attend the screening of the film, even shaking Abramovich by the hand as he arrived. Some 90 minutes later he returned to Stamford Bridge for another meeting - his last.
He left the stadium at around 9.30pm and more players soon learned of the news.
By this point, news had started to spread of Mourinho's departure. Chairman Bruce Buck and other directors were called into an emergency board meeting on how to handle the news and with whom to replace Mourinho in the short term.
At 1.45am the next morning, Chelsea released a statement. By 3am it was decided director of football Avram Grant would take over as manager.
There had, however, been signs of the trouble long before.
What began as a friendship between Mourinho and Abramovich based on the club's success gradually became a clash of personalities.
The first cracks appeared as early as May 2005 when Mourinho felt his authority had been undermined by Abramovich's decision to recruit Frank Arnesen from Tottenham Hotspur as director of scouting and youth development.
It was further eroded by the signing of £30m forward Andriy Shevchenko and the arrival of Avram Grant on the coaching staff.
Mourinho wanted neither.
More problems came in January 2007 when Mourinho and Abramovich clashed over what the Portuguese saw as a sudden refusal to provide necessary investment.
The manager had been told he would not be allowed to sign a striker in that transfer window. When he asked for a defender as cover for the injured John Terry, he was offered a choice between PSV Eindhoven's Brazilian international Alex and Bolton's Tal Ben Haim.
Mourinho wanted neither.
The manager's reluctance to play Shevchenko regularly and Abramovich's desire to bring Grant into the coaching set-up further chipped away at the relationship.
A fragile peace did break out as Mourinho led Chelsea to the FA Cup in May 2007 but the summer exposed old wounds. Knowing Mourinho was unhappy, Abramovich sounded out Jurgen Klinsmann about replacing him, but before he could do the deal he was talked down and persuaded to give the Special One another season.
The damage had, however, been done - the short peace proved a false one.
There were hints of the discontent on Chelsea's pre-season tour to California. When asked about Grant's appointment, Mourinho said: "He must not interfere with the power I have in my job. So, welcome. I will try to help him with what happens at a club like Chelsea."
But that was just the start. Mourinho's relationship with a number of players was strained at best. As Chelsea prepared for their final pre-season friendly against Danish team Brondby in Copenhagen, Shevchenko announced he was not fit and withdrew from the match with a back problem. Chelsea won 2-0, while Shevchenko was photographed at Sunningdale Golf Club on the same day.
Chelsea's poor start to the new Premier League season - their worst since 2000-01 - left them fifth in the table, albeit only two points behind leaders Arsenal.
In the fortnight before his sacking, they lost 2-0 at Villa Park and drew 0-0 with Blackburn, before the Rosenborg result.
Mourinho began to avoid news conferences, instead sending his assistant Steve Clarke in his place. When he did speak, he was frequently grumpy, enigmatic or cryptic. On the other hand, the underlying message was sometimes crystal clear.
"It's all about omelettes and eggs," he said in his last conference. "No eggs, no omelette. It depends on the quality of the eggs. In the supermarket, you have class one, class two and class three eggs.
"Some are more expensive than others and some give you better omelettes. So when the class one eggs are in Waitrose and you cannot go there, you have a problem."
After the Rosenborg draw, witnesses say Abramovich entered the dressing room.
His appearance was not altogether unusual but one source described seeing the owner, tactics board in hand, taking players to task over their performance - with Shevchenko acting as a translator.
Mourinho was not present, having spent only two minutes in the dressing room before attending to his media commitments. The men exchanged a few words in the players' lounge later - but there was no hint of what was to come.
Mourinho has told friends his departure from Chelsea remains the most painful and hurtful experience of his career. At that point, it was hard to envisage a time when the Special One would ever return.
Time has healed old wounds but to what extent, remains to be seen.
At his news conference there will be smiles, promises and warmth - but Chelsea and Abramovich must hope this second marriage brings more than just instant gratification.