Robbie Keane: Republic of Ireland striker not considering retiring
Last updated on .From the section Football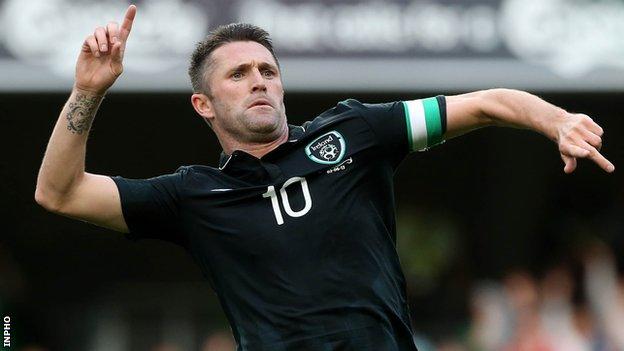 Robbie Keane is confident he can play for another five or six years as he prepares to make a record 126th appearance for Republic of Ireland.
But Keane, 32, made clear on Thursday that he has no plans to end his career.
"I have certainly got no intentions at all [of retiring] at this moment in time," said the LA Galaxy forward.
"I love doing it, I love training every day.
"When you get older, your desire and your hunger are even more so because even though I don't feel I am coming to the end - because I am not, I still have at least another five, six years left in me - you know you are not that young lad any more.
"People forget I am 32 years of age, it is not like I'm 34, 36 or whatever.
"People are talking about [keeper David] Forde being in the squad and he's a newcomer, but he's 33 years of age.
"I am a year older than Wes Hoolahan and he's a newcomer; John O'Shea is the same age as me.
"As long as I have the hunger and desire, there's no reason for me not to [keep playing]. I will retire when I stop scoring goals."
Goalkeeper Shay Given, capped 125 times, and midfielder Damien Duff, who made 100 appearances for the Republic, announced their international retirements after Euro 2012 but Keane insists the thought never crossed his mind.
He said: "I didn't think about it. Obviously, there were a lot of questions about it because myself, Richie [Richard Dunne], Shay and 'Duffer' came through together, so we should leave together.
"But that's not the case. Shay is older than me, even though we came in around the same time. Me and 'Duffer' came in at the same time.
"It was Damien's decision to retire, but I didn't contemplate it.
"If I felt like I had nothing to offer the team, I certainly would do that, but I still feel like I have a lot to offer for the national team."
Keane made his debut as a substitute against the Czech Republic in March 1998 and won his second cap against Argentina later that year.
He added: "To play at Lansdowne Road - I used to go there in the schoolboy stand, get my £2 ticket and sit there with my brother and my cousins, and then a few years later to be actually playing there was obviously great."
With his four-year-old son Robert the Republic's team mascot on Friday, it will be a proud occasion for the Keane family, but the striker is playing down his caps record.
"It's something you don't really think about too much because you are focusing so much on the game."