Ebbsfleet: Steve Brown defends signing players from Dover
Last updated on .From the section Football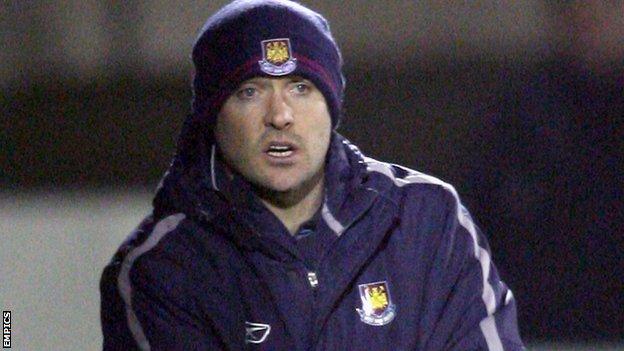 Ebbsfleet United manager Steve Brown has defended his decision to sign two players from his former club Dover.
Brown, who was on the coaching staff at Crabble last season, has brought Ben May and Daryl McMahon to the Fleet.
He told BBC Radio Kent: "The door has been left open for me to talk to those players.
"They have not tied their players down to contracts and I see that as a mistake. I am not doing anything untoward or underhand."
He added: "If they want those players then sign them up."
Ebbsfleet, who were recently taken over by Kuwaiti-based KEH Sports Limited, paid Dover £13,000 for midfielder McMahon, while striker May moved to Stonebridge Road on a free transfer.
Asked whether he was concerned about Brown coming in for members of his squad, Dover manager Chris Kinnear responded: "He does covet our players a little bit, doesn't he? It's up to him.
"If the players want to go and they feel like it will suit them, and if Ebbsfleet want to put a lot of money around, that's them.
"It has never bothered me in the past and it won't bother me now. We are trying to build a young side who are ambitious to play for Dover and build over a number of years to sustain it.
"It has happened too many times at clubs that money is thrown about early on and then it disappears. We are in it for the long haul.
"I would imagine Steve would like a few more of our players.
"There are other teams you can get players from but at the moment it looks like everybody wants Dover players."
Fleet's capture of McMahon is the first time they have paid a fee for a player since they signed Michael Gash for £20,000 in 2008.
Brown has a transfer budget of £100,000 and a weekly wage budget of £8,000 at his disposal following the takeover by KEH Sports, but Fleet vice-chairman Peter Varney has defended their wage structure.
"We operate a wage cap here and players like Daryl McMahon have taken a significant cut to come here and have done so for footballing reasons," Varney told the club website.
"The other Dover players we have signed were not offered terms by Dover, so I fail to understand how they can be accused of chasing money.
"Our budget is by no means the highest in the league and, as I have said previously, we will run Ebbsfleet United in a financially responsible manner."
Brown added: "It is well documented the wage budget I have got, but I have set a cap for every individual who comes to Ebbsfleet.
"I have lost players because other clubs have offered more money."