Kenya's Tusker withdraw from Cecafa event over security concerns
Last updated on .From the section Football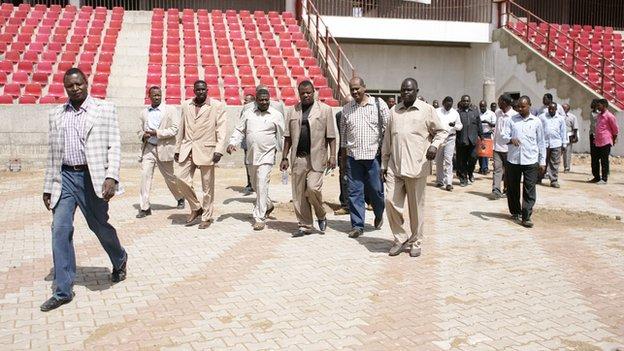 Kenya's Tusker have withdrawn from this month's east and central African regional Cecafa Club Championship in Sudan because of security concerns in the host region of Darfur.
Tusker director Charles Obiny has told Football Kenya Federation (FKF) they consider the volatile area 'unsafe.'
FKF chairman, Sam Nyamweya, has backed Tusker's stance and added the issue of security is a deep concern.
"We can not allow our representatives to play in a region considered unsafe and it' up to Cecafa to look for alternative venues conducive to all clubs," he said.
His comments indicate that FKF will not be looking for a Kenyan team to replace Tusker at the tournament.
The move comes despite the secretary general of the Sudan FA, Magdi Shams Eldin, recently making further assurances about safety at the tournament.
The secretary-general of Cecafa, Nicholas Musonye remained confident the event will go ahead.
"That's their (Tusker) decision but we are moving ahead with this competition," he insisted.
"I don't believe they (Tusker) have a genuine reason for withdrawing, I'm surprised they don't know where they are playing as they talking of North Darfur and yet they're based in South Kordofan.
"They are not aware of what's going on there - they talk about security in North Darfur but they've never been there and they are operating on hearsay.
"I've been three times and I can confirm there is peace in that area."
Earlier this week, Tanzanian side Simba announced they would not take part in the event if it is going to be held in Darfur.
The defending champions Yanga, also from Tanzania, said they would follow government advice on whether to travel to the region.
Three of the biggest sides from the region Ethiopia's St George, Al Merreikh and Al Hilal from Sudan had already decided against taking part due to busy playing schedules