Musona eager to rediscover lost form
By Steve Vickers
BBC News, Harare
Last updated on .From the section Football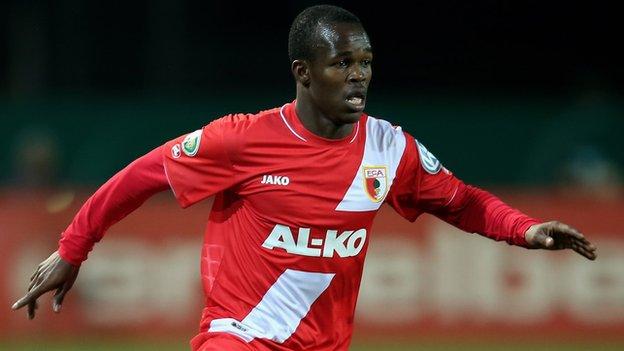 Germany-based striker Knowledge Musona has been tipped to step up for Zimbabwe and fill the void left by long-serving captain Peter Ndlovu.
But first the 22-year-old must recover from spending much of last season in the Bundesliga wilderness.
He was loaned by Hoffenheim to Augsburg, where he went through the whole season without scoring, playing in 14 games, making eight starts and lasting the full 90 minutes only three times.
"It's been a long time since I played a normal competitive game," said Musona, who barely featured for Augsburg after the winter break.
"It was frustrating, I was fighting for my position but the second half of the season was not so good for me, I must say it was a hard time for me.
"I think my game went some steps back, because the previous season I was playing regularly and this season I didn't play so much."
Another African player also fell out of favour at Augsburg this year, blond-haired Burkina Faso striker Aristide Bance.
"For Aristide, once he came back from the Africa Cup of Nations he didn't get the chance to play because the team was playing well and the coach didn't want to change the team, so Aristide had no chance," said Musona.
"But he's a good player and I know next season he will play."
The future looked bright for Musona when he arrived at Hoffenheim from South African club Kaizer Chiefs in 2011, but now he is not sure where he will be playing next season.
"I don't know anything yet, but I think I have to find the right team where I can play and where I'm appreciated then I think everything will be alright. If I find the right team I can start to pick up my game from where I left off a year ago," Musona told BBC Sport.
Despite his barren season at Augsburg, Musona has continued to play well for Zimbabwe, and he fired in a goal from long range in the 2-1 defeat to Egypt in Alexandria in a World Cup qualifier in March.
He followed that up by scoring in a World Cup qualifier against Egypt on 9 June but his side finished on the wrong end of a 4-2 result, which means Zimbabwe are now out of the running to reach Brazil,
While that is clearly a disappointment, Musona the country are on the right track as German coach Klaus Dieter Pagels continues to rebuild the squad.
"It's a good team, a young team, and we have to add a little bit of confidence and a little bit more experience in our team, then I think we can go far," he said.
"I think we have to just keep on playing well and build a team for the next Africa Cup of Nations."