England Under-21: Stuart Pearce targets win ahead of contract talks
Last updated on .From the section Football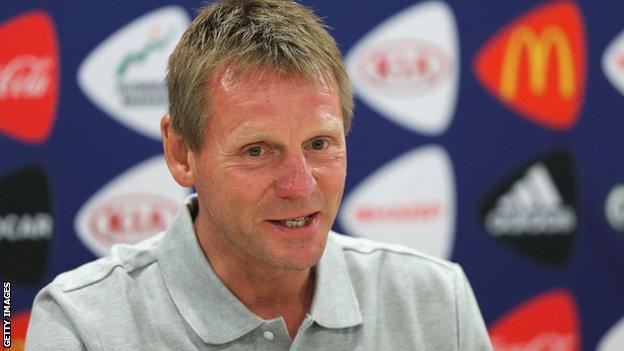 Stuart Pearce says he has a "burning ambition" to win the European Under-21 Championship with England ahead of talks on his future.
England, tournament winners in 1982 and 1984, face Italy in their opening game in Tel Aviv on Wednesday.
"If I strip it down, the burning ambition inside me is to win it," said Pearce, whose contract as coach expires this month.
"I'm looking forward to sitting down with the FA in two weeks' time."
England reached the final in 2009, which they lost to Germany 4-0 in Malmo, with players including Theo Walcott, James Milner and Micah Richards.
But Pearce believes his current crop, which includes Wilfried Zaha and Jordan Henderson, has the potential to go one step better in Israel.
"To get here and be part of this fantastic tournament is a success in itself," added the former Manchester City manager, who has been in charge of England Under-21s for six years.
"When we start our journey every two years, we sit our players down and we talk about winning the tournament. We are here to win the tournament.
"That is the only message I ever send out to the squad.
"On top of that it will be how many players can get tournament experience here, the likes of Jordan Henderson, who can step into the seniors next time round with that experience that they have had of tournament football."
Norway and hosts Israel await Pearce's team after Italy.
But however England perform in Israel, Pearce has made it clear he wishes to continue in charge of England Under-21s.
"I am absolutely delighted with the job I do," he said.
"I really enjoy working with young players and have a real passion for it myself, and look forward to sitting down with the FA in two weeks' time."
Striker Wilfried Zaha, who helped Crystal Palace win promotion to the Premier League, has been struggling with a damaged ankle.
But Pearce expects him to face Italy.
"He's played a lot of games this year," he added.
"We think the mental freshness of not training for a week will serve him well."