Hearts insist tax bill will be paid to avoid winding up order
Last updated on .From the section Football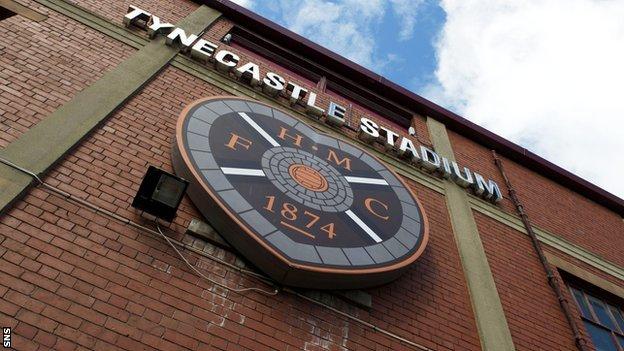 Hearts insist they will pay an outstanding tax bill - required within seven days - and avoid a winding up order from HM Revenue and Customs.
The club would also face a signing embargo imposed by the Scottish Premier League should they fail to settle the £100,000 owed for PAYE.
"We are in dialogue with HMRC and expect to make payment in the very near future," said a club spokesman.
Hearts avoided a winding up order in December over a £450,000 tax bill.
That was paid thanks to the generosity of their fans, while the club was also forced to agree a repayment plan for a separate tax bill of more than £1.5m following a dispute over loan deals for players from FBK Kaunas.
Hearts also have a debt of £25m, £10m of which is due to their parent company, UBIG, which is claiming insolvency, and £15m to Ukio Bankas, which has been officially declared bankrupt.
The football club avoided a potential points deduction when the SPL ruled last month that it was not satisfied UBIG had suffered an "insolvency event" during the season just gone.
However, if any club defaults on tax then a registration embargo is applied to that club until such time as the matter is resolved.
was already aware of this latest debt problem on Saturday when he sent out a personal letter to supporters who are yet to renew their season tickets.
Appealing to fans, he claimed the club hoped to have cleared their financial problems in time for the new season.
"Looking forward, we are aiming to resolve all the financial issues before the campaign kicks-off in August and will dedicate special attention to the football planning with a view to improving results for next season," he said.
"The board aims to resolve the ownership and debt situation before the new season starts and we're also aiming to reshape the team to improve the areas we feel have been lacking.
"We have already started speaking to players who want to play for Heart of Midlothian Football Club, play a positive part in this club's great history and nurture our young players.
"We must, however, do this in a prudent way and preserve the football club for generations to come."