Alan McCormack: Swindon Town chairman tried to keep captain
Last updated on .From the section Football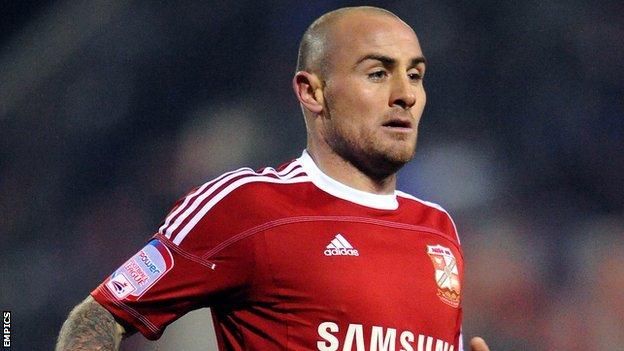 Swindon chairman Jed McCrory has insisted he did all he could to keep Brentford-bound Alan McCormack at the County Ground.
The 29-year-old has spent the last two seasons with Town, and has been captain since last summer.
But the former Charlton midfielder is now set to join the Bees on a two-year deal after failing to agree a new contract at Swindon.
"I don't think we could do any more," McCrory told BBC Wiltshire.
"We offered him a one-year deal and had spoken verbally about a two-year deal, but we didn't want to put it in writing because we didn't want it touted to other clubs.
"We thought it was a fair offer and Macca thought it was a fair offer. However, the offer [from Brentford] was better for his family so he's made that decision."
McCormack played 98 games for Swindon and his last appearance came against his new club in Town's League One play-off semi-final defeat.
The Irishman said the offer of a longer deal tempted him to join Brentford.
"I went and spoke to Brentford and they've offered me a two-year deal with a year's option and that's the option I had to take for the security of my family.
"The money wasn't as important as the length of time. I had to make sure I was secure for the next few years.
"Swindon's offer was verbal so it was too late," he explained
Despite his decision to leave the club, McCrory has said he would welcome McCormack back to Town in a coaching role in the future.
"I think he's an inspirational guy who can motivate people and we'd love to have him back at the club.
"There's no animosity," said the Swindon chairman.
And McCormack added: "I'm buzzing from that, to have a chairman that respects you off the pitch as well. I'll be taking him up on that offer when my playing days are finished.
"But it's time to move on now and I can't wait for the challenge."