Craig Bellamy reveals ambition to manage Cardiff and Wales
Last updated on .From the section Football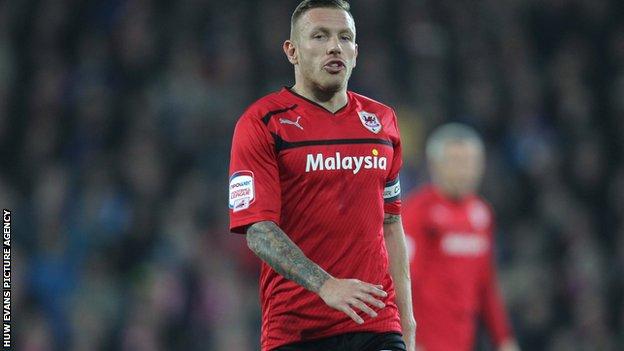 Craig Bellamy says he would love to manage Wales and Cardiff City once his playing days are over.
But the 33-year-old insists he has no plans to retire just yet, adding he has long way to go before he is ready to step into management.
"I have a lot to learn, I really do, because I don't want to just go into it and get caught on the hop," said the Wales and Cardiff forward.
"I want to make sure I have every angle covered."
Bellamy was suggested as a candidate to take the reins at Cardiff in a player-manager capacity after Dave Jones was sacked in 2011.
The club instead appointed Malky Mackay, who masterminded Cardiff's return to the top flight after a 51-year absence by winning the Championship title.
Bellamy joined Mackay at the club last summer by moving from Liverpool on a free transfer and plans to play a full role in Cardiff's Premier League debut next season.
But management has become an increasingly attractive option for a player who has worked under a number of leading managers, such as Sir Bobby Robson and Kenny Dalglish.
And when asked if he could one day manage Wales or Cardiff, Bellamy replied: "I would take both definitely.
"I adore my country, that's obvious, but I am passionate about Cardiff as well. To ever be involved with Wales - I would love, I would adore it.
"And with Cardiff, because of where the club is now and where I believe this club can go in the future, that would be a huge honour."
For a player who has struggled continuously with knee and hamstring problems, Bellamy enjoyed a relatively injury-free season in his second spell at Cardiff last term.
That allowed him to make a total of 37 appearances for club and country, but the demands of the Championship made him wonder whether he had much left in the tank.
"During the last month of the season, I felt that could be the end for me," he said.
"It was tough. My hamstrings, my ankles, my knees were aching. It was just such a long season. I probably played more minutes than I had done for a long, long time.
"It was hard. I had a lot of tough tackles during the season and that took its toll on me. It's been nice to have a month of not doing anything. I needed it.
"I've only just started waking up in the morning and being able to walk properly, so that's a relief. Now I know I'm ready to start training again."
Bellamy refuses to set a target of how many years he hopes to keep playing, insisting he takes a "year-by-year" philosophy to prolonging his career.
But he is adamant that another season in the Championship is out of the question, so the longer Cardiff stay in the Premier League, the longer Bellamy will play on.
"I, like the rest of the players, will do everything in my power to make sure that happens," said Bellamy, who has said he has no interest in playing for another club.
"Then, we'll see where we go from there. I do feel I couldn't play in the Championship again. I feel it took two or three years out of me last year.
"As long as Cardiff are in the Premier League, it will give me a better opportunity to play because it's just one game a week."