Jose Mourinho 'will target Champions League glory at Chelsea'
Last updated on .From the section Football252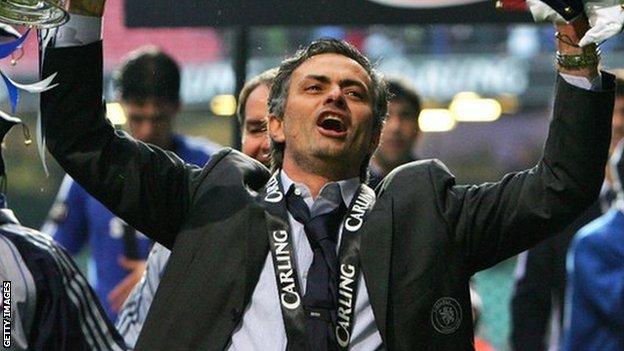 Former Chelsea midfielder Alexei Smertin says Jose Mourinho has returned to Stamford Bridge to win the Champions League which eluded him during his first spell in charge of the Blues.
Mourinho led Chelsea to the Premier League title twice from 2004-07 as well as two League Cups and one FA Cup.
The 50-year-old, who won the Champions League with Porto and Inter Milan, is back at Chelsea on a four-year deal.
"His target will be to win this trophy," Smertin told BBC Radio 5 live.
Mourinho twice steered Chelsea to the Champions League semi-finals during his first stint in charge, only to lose to Liverpool on both occasions in 2005 and 2007.
But the Portuguese manager did win the competition with Porto in 2004 and Inter Milan in 2010.
Former Russian international Smertin was already at Stamford Bridge when Mourinho was first appointed.
And the 38-year-old, who also played for Fulham, Portsmouth and Charlton, says he is not surprised that he has returned to Stamford Bridge despite leaving in September 2007.
"I had 18 managers in my playing career and Mourinho is one of the best coaches I worked under," added Smertin.
"He is very strong psychologically.
"I was always sure we would win a game; the question was by how many.
"I remember the first meeting with him. He told all of us we were the best players.
"He asked us how many trophies we had won. Nobody answered. He responded: 'That is why I know we start winning from tomorrow'.
"I didn't play week in week out but despite that I was very happy and I felt involved."
Meanwhile, Real Madrid goalkeeper Iker Casillas says he bears former coach Mourinho no ill will and has wished him luck at Chelsea.
Casillas fell out of favour under Mourinho and ended up not playing a single match for the first team in the final five months of the season.
Mourinho's treatment of long-serving club captain Casillas did not please some Madrid supporters.
"Mourinho has embarked on a new journey and I wish him the best," said Casillas.