Everton agree Roberto Martinez compensation with Wigan
Last updated on .From the section Football635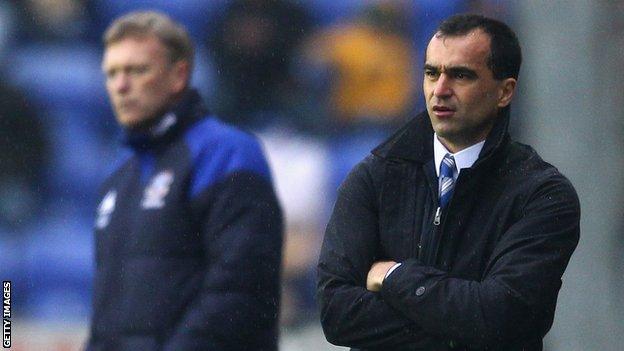 Everton have reached an agreement with Wigan over compensation for manager Roberto Martinez, who is expected to hold further talks with the Toffees.
Martinez said last month he would leave Wigan after four years at the helm.
"Bill Kenwright [Everton chairman] and myself have agreed a deal," Wigan chairman Dave Whelan told BBC Sport.
"He can now talk to Everton, so he is free to do a deal if he wants."
Later on Monday, Everton said in a statement: "In response to regrettable and somewhat premature reports earlier this evening, Everton are continuing discussions with regards to the vacant managerial position.
"Whilst positive moves are being made, the club will officially announce details as and only when they are agreed and completed."
Martinez could be appointed in the next 48 hours and Whelan added that he thought the Toffees would be a good move for the Spaniard.
"His meeting with Everton last week had gone very well, he was probably in the last two or three on the list," added Whelan. "The chairman then rang me and we discussed the compensation deal, which was agreed this evening [Monday] at six o'clock.
"After leaving Wigan, I think Everton is the next stop of Roberto before he goes to the very, very top.
"Everton is run very similarly to Wigan, it's a family-run club, a friendly club with a great bunch of supporters. They're a bigger club than Wigan and it's a super club.
"I had a meeting with Roberto tonight, we are still very good friends and will be friends for the rest of our lives."
Last week, the Toffees were given permission to speak to Martinez following his request to leave the FA Cup winners after their eight-year Premier League stay came to an end last season.
After agreeing terms for his manager's release, Whelan's attention now switches to searching through the "30 people" that have applied to be Martinez's successor.
"I have not been able to interview any of the 30 people that have applied," Whelan said. "I did not want to jeopardise negotiations about compensation [for Martinez] and it would not have been fair to offer anyone the job when I was not in the clear.
"I would say that in football there are always good managers without a position. We have had some very good people apply for the job.
"There is no need for me to chase anyone. There are half a dozen top lads among those that have applied."
Martinez, who joined Wigan from Swansea in June 2009, was a target for Aston Villa in June 2011 but opted to stay. He was also strongly linked with the Liverpool job last summer.
In his first managerial role, Martinez guided Swansea to promotion to the Championship in 2008.
Then he joined Wigan - a team for whom he played for six years from 1995 - keeping the club in the Premier League for three seasons despite working with a lower budget than many of his rivals.
Under his reign, Wigan finished 16th twice and 15th before being relegated in 18th place this season, although the Latics continued to attract praise for their style of football.
Despite their relegation, Wigan's shock 1-0 FA Cup victory against Manchester City at Wembley means they will compete in next season's Europa League.