Craig Bellamy expects Mackay to stay for years with Cardiff City
Last updated on .From the section Football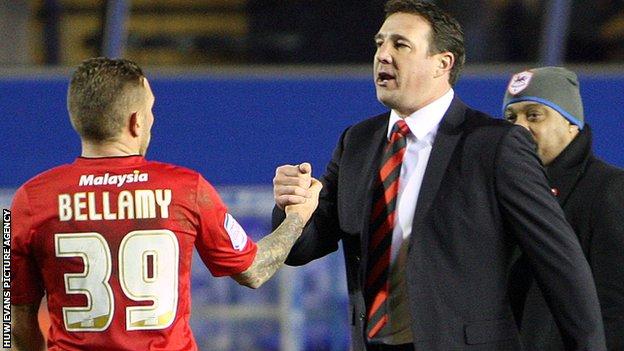 Craig Bellamy expects manager Malky Mackay to stay with Cardiff City for many years to come.
Having guided Cardiff to Premier League promotion, Mackay has been linked with managerial jobs at a host of clubs, including Everton and Stoke City.
But Bluebirds striker Bellamy said: "By getting the club up, it wouldn't make sense to him or anyone else to then leave for somewhere else.
"I am sure he is here for the long run as well."
Mackay, under contract until 2016, has impressed during his brief spell in south Wales, ending Cardiff's 51-year absence from England's top flight by securing promotion as Championship winners.
The 41-year-old Scotsman has previously been backed as a possible successor to David Moyes, the new Manchester United manager, at Everton.
His name was also mentioned as a candidate to take over at Stoke City before Mark Hughes was appointed to replace Tony Pulis.
"Being linked [with other clubs] is just a great compliment, not just for the manager but the players too," added 33-year-old Bellamy.
"Everybody wants to be linked because it means you are doing something right.
"I am sure he is fully aware of the job he has here.
"This is a club on the up but it is going to be a tough year, there are no two ways about it."
Bellamy joined Mackay at Cardiff last summer from Liverpool. The pair were team-mates at Norwich City at the start of Bellamy's career, and the Wales forward says a firm bond has developed between them over the past season.
"He has been remarkable for me as a person throughout the whole season," said Bellamy.
"I speak to him a lot, not just for playing, but personal stuff as well.
"He has been outstanding, he really has. I knew him as a player, I played with him and to watch him evolve and become a manager has been brilliant.
"He has been such an asset to the football club and it's been good to watch it."