Drumahoe to host Liverpool and Northern Ireland at Milk Cup
Last updated on .From the section Football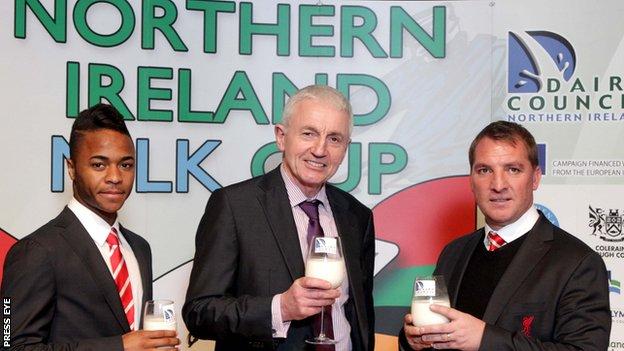 Drumahoe will stage two games in the Milk Cup this year to help Derry celebrate its city of culture status.
Liverpool and Northern Ireland will be the star attractions at the Londonderry venue, which is home to Institute FC.
Liverpool face County Armagh in the Premier Competition on Monday 29 July with the Elite game between Northern Ireland and the USA two days later.
It is the first time Milk Cup organisers have staged matches in the Derry City Council area.
Northern Ireland manager Michael O'Neill is urging supporters to come out and back the national side at the Riverside Stadium on Wednesday 31 July.
He said: "We have always received terrific support for our teams at the Milk Cup and I believe this gives football supporters in Derry and the surrounding region a great opportunity to see some of the stars of the future right on their doorstep".
"I hope football people come out and enjoy both games.
"I know Liverpool are a big draw even at Under-17 level. In years gone by players such as Robbie Fowler and Steve McManaman played in the Milk Cup."
Milk Cup chairman Victor Leonard explained organisers of the UK City of Culture celebrations and Derry City Council approached Milk Cup chiefs to see if they would consider the move.
"We felt that if it was thought we could help enhance the already extensive programme of events, then we would endeavour to answer the call," Leonard said.
Institute President Charles Ferguson said: "this is another important milestone for our club".
"We have seen major development of our facilities in recent years and we believe we have the ideal venue to host such prestigious games."
The Milk Cup's welcome parade of participating teams begins at the Diamond in Coleraine on Sunday 28 July with finals' night on Friday 2 August at Ballymena Showgrounds.
The event will be covered extensively on BBC Sport NI.
NI MILK CUP 2013 FIXTURES
JUNIOR SECTION
Monday 29 July
Noon - Co. Down v Watford (Broughshane), San Luis de Colina v North Dublin SL (Riada Stadium 2, Ballymoney, Southampton FC v Cavan & Monaghan DL (Rugby Avenue, Coleraine), Japan FA v Co. Fermanagh (Anderson Park, Coleraine); 1.30pm - Plymouth Argyle v Strikers FC South Coast (Clough, Ballymena), Brentford v North America SC de Ecudor (Castlerock), Dundalk SL v Co. Armagh (Parker Avenue, Portrush), Co. Londonderry v Co. Antrim (Seahaven, Portstewart); 3.30pm - Swindon Town v Everton (Anderson Park, Coleraine), Co. Tyrone v Liverpool (Scroggy Road, Limavady)
Tuesday 30 July
Noon - Co. Tyrone v Southampton FC (Broughshane, Ballymena), Co. Antrim v Brentford (Anderson Park, Coleraine), Co. Fermanagh v Plymouth Argyle (The Warren, Portstewart); 1.30pm - Co. Armagh v Swindon Town (Clough, Ballymena), Everton v Dundalk SL (Rugby Avenue, Coleraine), Co. Down v San Luis de Colina (Castlerock), Watford v North Dublin SL (Parker Avenue, Portrush), Liverpool v Cavan & Monaghan DL (Riada Stadium, Ballymoney); 3.30pm - North America SC de Ecudor v Co. Londonderry (Anderson Park, Coleraine), Strikers FC South Coast v Japan FA (Scroggy Road, Limavady)
Wednesday 31 July
Noon - Co. Fermanagh v Strikers FC South Coast (Broughshane, Ballymena), North Dublin SL v Co. Down (Anderson Park, Coleraine), Dundalk SL v Swindon Town (The Warren, Portstewart); 1.30pm - Co. Antrim v North America SC de Ecudor (Clough, Ballymena), Watford v San Luis de Colina (Rugby Avenue, Coleraine), Plymouth Argyle v Japan FA (Castlerock), Brentford FC v Co. Londonderry (Parker Avenue, Portrush), Everton v Co. Armagh (Riada Stadium, Ballymoney); 3.30pm - Cavan & Monaghan DL v Co. Tyrone (Anderson Park, Coleraine), Liverpool v Southampton (Showgrounds, Coleraine)
PREMIER SECTION
Monday 29 July
3.30pm - Strikers FC South Coast v TuS Altenberge (Broughshane, Ballymena), Otago Utd v Co. Fermanagh (The Warren, Portstewart), Newcastle Utd v O'Higgins FC (Showgrounds, Coleraine); 5pm - Cruz Azul v Cherry Orchard (Castlerock), Co. Down v Vendee FC (Parker Avenue, Portrush); 6pm - SC Corinthians v Bohemian FC (Seahaven, Portstewart), Club America de Mexico v Co. Tyrone Riada Stadium, Ballymoney); 7pm - Co. Londonderry v CSKA Moscow (Scroggy Road, Limavady); 8pm - Manchester Utd v Co. Antrim (Showgrounds, Ballymena), Liverpool v Co. Armagh (Riverside Stadium, Drumahoe)
Tuesday 30 July
3.30pm - Vendee FC v Cruz Azul (Broughshane, Ballymena), CSKA Moscow v Bohemian FC (The Warren, Portstewart); 5pm - Cherry Orchard v Co. Down (Riada Stadium 2, Ballymoney), Co. Fermanagh v Club A. de Mexico (Rugby Avenue, Coleraine), Co. Tyrone v Otago Utd (Parker Avenue, Portrush); 7pm - O'Higgins FC v Liverpool (Scroggy Rd., Limavady), Co. Antrim v TuS Altenberge (Seahaven, Portstewart); 8pm - Co. Londonderry v SC Corinthians (Riada Stadium, Ballymoney), Co. Armagh v Newcastle Utd (Showgrounds, Ballymena), Manchester Utd v Strikers FC South Coast (Showgrounds, Coleraine)
Wednesday 31 July
3.30pm - Club America de Mexico v Otago Utd (Broughshane, Ballymena), Vendee FC v Cherry Orchard (The Warren, Portstewart), Co. Down v Cruz Azul (Scroggy Road, Limavady); 5pm - Co. Antrim v Strikers FC South Coast (Riada Stadium 2, Ballymoney), O'Higgins FC v Co. Armagh (Castlerock); 6pm - CSKA Moscow v SC Corinthians (Showgrounds, Ballymena); 7pm - TuS Altenberge v Manchester Utd (Scroggy Road, Limavady), Co. Tyrone v Co. Fermanagh (Seahaven, Portstewart), Liverpool v Newcastle Utd (Riada Stadium, Ballymoney), Bohemian FC v Co. Londonderry (Showgrounds, Coleraine)
ELITE SECTION
Monday 29 July
8pm - N. Ireland v Denmark (Showgrounds, Coleraine), USA v Mexico (Riada Stadium, Ballymoney)
Wednesday 31 July
8pm - Mexico v Denmark (Showgrounds, Ballymena), USA v N. Ireland, (Riverside Stadium, Drumahoe)
Friday 2 August
1.30pm - Denmark v USA (Scroggy Road, Limavady); 6pm - N. Ireland v Mexico (Showgrounds, Ballymena)