Roy Hodgson the right man for England - David Bernstein

By Phil McNulty
BBC Sport chief football writer in Rio
Last updated on .From the section Football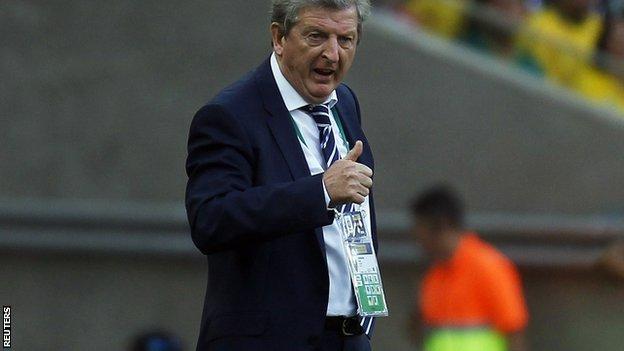 Football Association chairman David Bernstein is convinced Roy Hodgson is the right manager to take England to the 2014 World Cup, and has passed that message on to his successor Greg Dyke.
Bernstein, who steps down in July, said: "I still have faith in Roy. Absolutely. Why shouldn't I?
"We thought it when we appointed Roy and it is still the case.
"He brings a lot of attributes - his experience, his breadth of thinking and buying into the whole game."
Bernstein leaves the post having reached 70 - the age limit for his position - to be replaced by former BBC director general Dyke.
England are currently second in their World Cup qualification group, two points behind Montenegro, with four games left to play.
They drew 2-2 in Rio's Maracana Stadium on Sunday in a friendly following last week's 1-1 draw with the Republic of Ireland.
And Bernstein added: "I think Roy has been a first-class appointment and I am very confident he will bring us back to Brazil."
And asked whether he had relayed his confidence in Hodgson to Dyke, he said: "My successor will make his own mind up. He is clearly an experienced, strong-minded individual and he will make his own mind up.
"He will have picked up the vibes clearly. I have met with him and passed on that view to him so the answer to the question is 'yes'."
Hodgson succeeded Italian Fabio Capello, signing a four-year deal on 1 May 2012, and took charge of England at Euro 2012, where his side were knocked out by Italy on penalties at the quarter-final stage.
Bernstein added: "Roy has only been manager for a year. He took over for the Euros just before the competition and I thought had we won the penalty shoot-out against Italy we would have said we had a very successful competition. As it was I thought we did well there and subsequently our overall record has been OK.
"We have had one or two matches we have drawn which we would have liked to have won but you have to give us a little time. Roy is still learning and we have suffered from a lot of injuries and players dropping out, so as we get towards autumn I expect Roy to have a wider range of players to choose from and I'm confident he will do well."
He accepted, however, the scale of the disappointment that would be felt in England should Hodgson fail to take them back to Brazil.
Bernstein said: "You hardly need to ask the question. English football needs a team at the major tournaments, whether it's the Euros or even more so the World Cup.
"It would clearly be bad news, a huge national disappointment. I would be as disappointed as anybody. What more can I say? We need to be there."
And if England do reach Brazil, Bernstein insists they must make the journey to South America with the ultimate victory as their goal.
"In tournaments you never know," he said. "You have favourites who blast their way through like Spain, who are a fantastic side and have done wonderfully well and then you have a side like Denmark who won the Euros out of the blue in 1992 and didn't even qualify originally.
"You need a whole series of things to work for you and the best sides need a bit of luck, you might need to win a penalty shoot-out at some point. Who knows?
"I believe we qualify and we come back here to win it. How else can an England team approach a major competition other than coming to win it?"
Bernstein admitted England needed more home-grown players in the Premier League - but insists they have world-class players in Hodgson's side.
He said: "I think any player playing for England is world class by definition. You don't get into the England side unless you are a top, top player and a top Premier League player and we know the quality and level of the Premier League."