Aston Villa: Richard Dunne hints at summer departure
Last updated on .From the section Football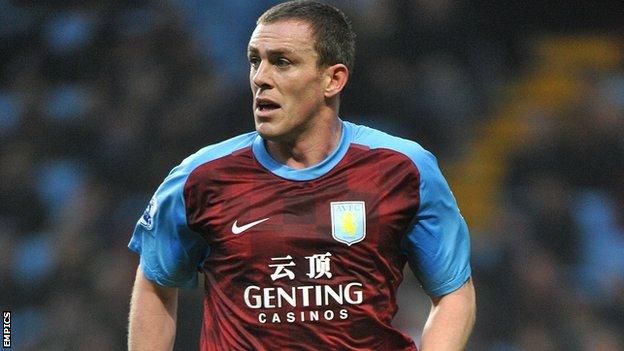 Aston Villa defender Richard Dunne has suggested he is looking for a new club after making his return from injury for the Republic of Ireland on Sunday.
"Hopefully last night and whatever happens over the next week or so will put doubt out of people's minds over whether I am fit or not," he said.
"Hopefully something will come up."
The former Manchester City captain added: "I am delighted to be able to play, but because of the year and the frustrations, I also want to go and have a little break because it's been one of those worst injuries where all I could do was run, so I just ran for the whole nine months, basically.
"It's just been kicking a ball that's been the problem, so to get out and do it, everything came together and it was grand."
If Dunne, who is out of contract at the end of this month, leaves Villa then he could well be joined by former Republic of Ireland team-mate Shay Given, who has also hinted at exiting Villa Park this summer.
Friday's match was Dunne's first for club or country since the Euro 2012 finals defeat by Italy in June last year, having undergone surgery three times over the past year in a bid to solve his persistent groin problem.
"Ideally, you would try to play games behind closed doors and stuff like that, but as games go, I don't think it could have gone more perfectly," he commented.
"It was what I wanted, just the confidence to know that I can compete and more so, the week's training has been as hard as the game was.
"At times I feared it was the end. But I feel now that I can progress and play again for a couple of years."