Brazil's rebuilt Maracana: A house but not yet a home
Last updated on .From the section Football85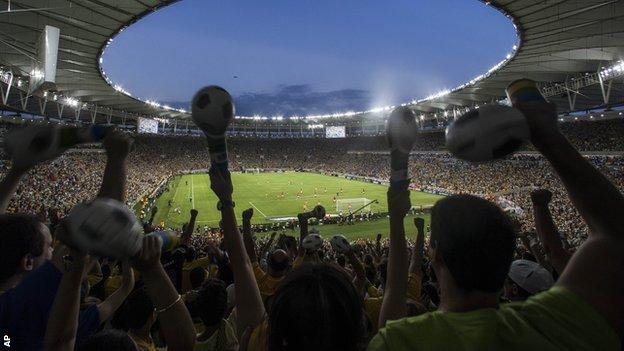 The Maracana is not Wembley, reserved for special occasions such as finals, play-offs and international matches.
Rio's stadium might seem exotic - like some giant spaceship parked just to the north of the city centre. But much of its local appeal comes from the fact that it is used so often. It is a club ground, historically used by all four of Rio's big teams.
It is where Zico gave weekly masterclasses for Flamengo, where Garrincha shone for Botafogo, the scene of a glorious Rivelino spell with Fluminense and for Vasco da Gama - who have their own stadium but still use the Maracana for big games - where Edmundo played his best football.
This means the relationship the Rio fan has with the Maracana is far more intimate than the one an English supporter has with Wembley. It is the Brazil fan's territory, even if he reluctantly has to share it with his local rivals. Fans of the big four Rio sides have the same chant: "The Maracana is ours".
But it hardly feels that way now - and probably will not for a while. Expensively rebuilt over the last three years, the new Maracana is an anywhere arena, impressive but unfamiliar - and that lack of familiarity makes it a little unsettling.
I was there more times than I care to remember between 1994 and the closure in 2010, for huge games where the stadium was bursting to capacity and for matches attended by under 1,000 fans.
So the sensation of disorientation was strong for me on Sunday - and, obviously, much stronger for local journalists who grew up with the place. It will take time to build the bonds of affection that link a supporter to his stadium.
Some are ready to embrace the changes, others will pine for the past. But the consensus seemed to be - even before the game began and left its legacy of fine second-half goals - that the friendly with England will be a day we will remember for the rest of our lives.
There are some parts of this modernity that I could happily live without - the giant screen blaring out adverts, and the attempts to get the crowd excited by yelling inanities into a microphone to name two.
Those responsible for such intrusions into the fans' experience appear to have forgotten a basic facet of football - that the crowd are not spectators. They are part of the spectacle. They should be left to create the atmosphere, which for big events builds up with its own rhythm.
Whatever the pros and cons, the new Maracana reopened by playing host to one of the oldest dilemmas in the game. "I'm searching for the right balance of my midfield," said Brazil coach Luiz Felipe Scolari after the game. The options he chose had a huge effect on the way that an intriguing 90 minutes against Roy Hodgson's Three Lions unfolded.
The first game of his second spell in charge was the 2-1 defeat to England at Wembley back in February. The central midfield duo in his 4-2-3-1 formation were frequently played out of that game by the clever and dynamic orchestration of Jack Wilshere, leaving Brazil's defensive line exposed. Scolari sought to tighten up in this area - the principal explanation for the exclusion of Chelsea midfielder Ramires.
"This business of having goalscoring midfielders is all very well for the press," said Scolari in April, "but it's not good for the coach or the team. When you have attacking full-backs like ours, you must have protection."
And so Brazil kicked off against England with Luiz Gustavo sitting in front of the back four, with Paulinho alongside him forced to rein in his own attacking instincts.
The result was a solid first half from the home side. They pressed the visitors well, forcing them to give possession away cheaply, while keeping Joe Hart busy in the England goal.
But the clearest chances came from defensive lapses and even then, most of Brazil's attempts on goal were shots for the statistics column - from long range, offering little real danger. They rarely managed to get behind England's defensive line.
At half-time, Scolari opted to take a risk. Just arrived from Germany, Gustavo was always likely to be replaced at the interval. The obvious substitute was Fernando, a defensive midfielder with impressive fitness and work ethic. Instead, on came Hernanes, who is much more of a playmaker.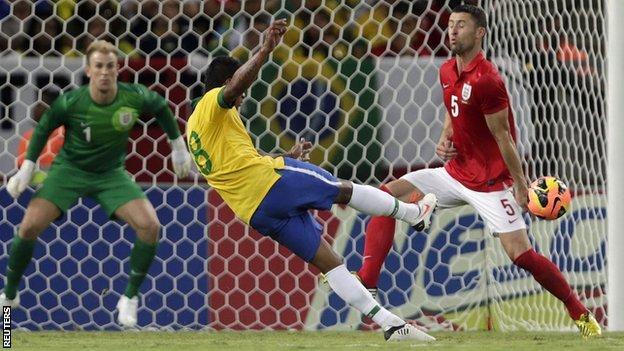 This brought a return. It was a shot from Hernanes which rattled the bar that fell to Fred, who volleyed home the opening goal. And there was also a return for the decision to allow Paulinho to push forward late on in the game - his Frank Lampard-esque volley giving Brazil a deserved draw.
But on the other hand, Scolari's second-half team did not function nearly as well as a defensive unit, their pressing lost intensity and, as England began to find the space to construct their moves, there was once more a sense of vulnerability about the home side.
Scolari made it clear after the game that he far preferred the first-half performance. The team that started against England will probably be the same one that starts against France in Porto Alegre next Sunday. But this puzzling dilemma - to push his midfield forwards or back - is not going to go away.
It will rear its head again and again on the road to a World Cup where, as hosts, Brazil must prepare for opponents who will defend deep and deny them the opportunity to counter-attack.
The new Maracana, then, has helped illustrate one of the oldest and most brilliant sayings in Brazilian football. Trying to define the balance of a team is like having a short blanket on a cold night - pull it over your neck and your feet get cold, cover your feet and your neck gets cold.
Comments on the piece in the space provided. Questions on South American football to vickerycolumn@hotmail.com, and I'll pick out a couple for next week.
From last week's postbag:
With Radamel Falcao going to Monaco for £50million this week, why did English clubs not take a chance on him earlier in his career? He arrived in Europe at the age of 23 and was hardly an unknown at the time. Do the Portuguese and Spanish leagues hold an advantage over British clubs in terms of immigration rules or are managers afraid of them not adapting to English football?
Andy McEgan
The work-permit issue is certainly a problem for English clubs in this regard. And there is also the technical side - it's not easy for a striker to come straight in from South America and succeed in the Premier League - as Diego Forlan's time at Manchester United from 2001 to 2004 made abundantly clear.
In the case of Falcao, there is also the fact that he was injury-prone at River Plate. I know some English clubs were looking at him - perhaps this put them off.
What I realise with Brazilian footballers who are elite or world-class is that they made a transition from a local Brazilian team to a smaller club overseas and then to a big club - like we saw with Ronaldo moving to PSV and then to the likes of Barcelona/Madrid/Milan/Inter etc.
With Neymar moving straight to Barcelona, is this a concern ? In my eyes, I believe it is a move that is a little too early.
Simon Preston
It is a concern. As you say, the majority of Brazilians who have succeeded in Europe have tended to find their feet with a smaller club first - it was like that for all of the recent ones at Barcelona - Romario, Ronaldo, Rivaldo, Ronaldinho, Daniel Alves.
With Neymar, this was never an option. He had put himself in a bracket of price and prestige where it was clear that he would be going straight to a big club, where the pressure will be on from the start.
But he has plenty of great players to help him. For all of his occasional acts of petulance, he strikes me as sufficiently sensible to be aware that he is not the main attraction. I don't anticipate any ego battles between Neymar and Messi, Xavi or Iniesta.