England must quickly build on foundations to earn Rio return

By Phil McNulty
Chief football writer
Last updated on .From the section Football231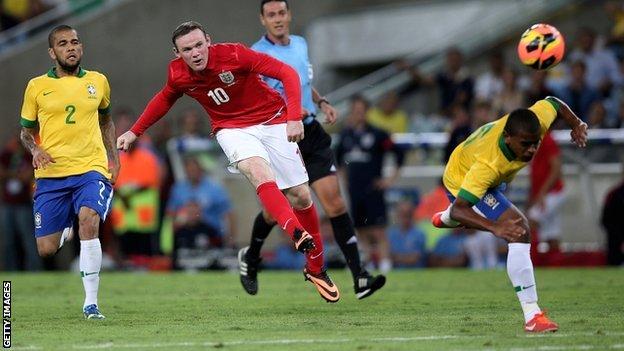 England's plan for World Cup qualification is, rather like Rio's reconstructed Maracana stadium, a work in progress.
Some foundations have been laid but plenty of finishing touches need to be applied before anyone can be convinced it is the end product.
And yet, as their plane took off from Rio on Sunday evening at the conclusion of a long season, the England team and manager Roy Hodgson found traces of encouragement in unlikely circumstances.
For an excruciating hour in this vibrant city, England had the appearance of starstruck bystanders who had flown almost 6,000 miles to play the part of passive observers as Brazil conducted an exhibition to mark the return to their iconic home.
Only goalkeeper Joe Hart separated England from abject embarrassment, a lone barrier between Brazil and the celebrations their wonderfully passionate fans demanded as the Maracana opened its doors for international business once more after a £340m refit.
When Fred finally opened the scoring, most inside the Maracana awaited the opening of floodgates.
Instead, England showed that whatever they lack - and set against the real football heavyweights they lack rather a lot - there is a resilience that will at least provide a starting point for those final four World Cup qualifiers.
For a few brief minutes, there was even the barely credible prospect that England might perform a grand larceny and beat a Brazil side - and this is not a great Brazil side by any stretch - who had outclassed them for so long.
Alex Oxlade-Chamberlain may never forgive his father Mark, who played when England last won in Rio in 1984, for nodding off at home at the moment he equalised with a wonderful goal, but this talented and personable young man can have his own sweet dreams about this.
When Wayne Rooney put England ahead there was that prospect of a win, before Paulinho's volley ensured Brazil rightly got the draw they deserved for their earlier dominance.
The plusses that accompanied Hodgson on his flight were the performance of Hart, the goals from Oxlade-Chamberlain and Rooney and the courage and never-say-die attitude that allowed England to hang in amid the carnage of the first half.
But in the country where even six-year-olds startled England players with their ball skills during a session on Copacabana beach, there was much that might have had the more faint-hearted fans turning away in horror.
Hodgson made a point of quoting England's passing statistics after criticism followed the draw with the Republic of Ireland. He may wish to look away when they land on his desk after this game.
Even reliable performers such as Frank Lampard gave away possession with horrendous regularity, and the contrast in technique with Brazil was stark. If Hart had not been at his best, Hodgson would have had a restless journey home.
To put this in a balanced context, England were depleted and at the end of a long season. Temperatures also soared above 30C here in South America but it still made painful, worrying viewing.
The vast majority of the 6.3m people in Rio will offer you strong opinions on football, and even the match programme, rarely a home to spiky comment anywhere in the world, delivered an unflattering view on England which the visitors spent the first half supporting with strong evidence.
It read: "World champion in 1966 during the Sir Bobby Charlton, Gordon Banks and Alan Ball generation, the team has not been much of a threat since."
Hodgson admitted some draws felt like defeats and others like victories. This can be filed safely in the latter category but it was not enough to deliver complete conviction that England will be back here in 12 months.
In other ways, this was a magical evening.
The Maracana may now be an identikit of many other stadia around the world, and there is much about its design and colour scheme that makes it a dead ringer for Kiev's Olympic Stadium, but to simply watch football in this Brazilian environment is to be draped in football history.
It is special, surroundings that somehow always make you aware of exactly where you are.
The big screens flashed regularly with grainy footage of Brazil's greats. The fixtures and fittings may be new but nothing can rob even the modern Maracana of its unique sense of place.
To stroll along Avenida Atlantica as it runs parallel to Copacabana early on Sunday was to see the passions evoked by Brazil's national team. The yellow shirts were out in force as a sign of the permanent attachment this nation has to its team and players.
As for this new Maracana, no-one would pretend all is perfect.
The presence of construction workers around the exterior and a temporary feel to some of the interior acts as a signal for some of the problems the stadium has had recently.
But to listen to the noise sweep around the stadium when Brazil attack - and indeed to hear the scorn poured on coach Luiz Felipe Scolari when he substituted Oscar - was a reminder of where you were and what this place means to those gathered inside.
Oxlade-Chamberlain will remember every England goal but there will be a treasured place for the one he struck so sweetly and powerfully past Julio Cesar in the Maracana.
It helped Hodgson and England leave with at least some hope, albeit also with a few concerns, that they might be back here to try and create more memories at the 2014 World Cup.