Brazil v England: Alex Oxlade-Chamberlain 'boosts England'
Last updated on .From the section Football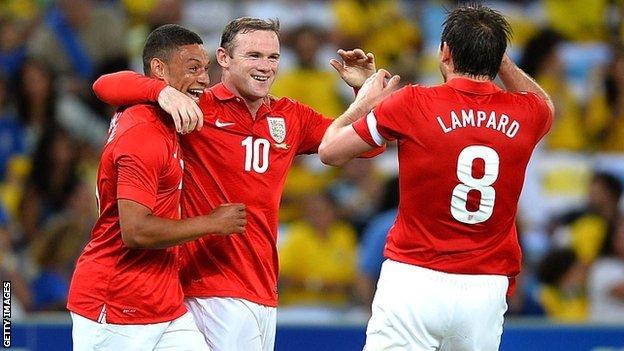 Substitute Alex Oxlade-Chamberlain gave England an "added dimension" as he helped secure a 2-2 draw against Brazil, said manager Roy Hodgson.
The visitors were outclassed in the first half but Oxlade-Chamberlain and Wayne Rooney scored fine goals after the break before Paulinho equalised.
"Alex is lively. He gets turned around [to attack the goal]," said Hodgson.
"Our game was looking better before he came on but he added another dimension and scored a very good goal."
Goalkeeper Joe Hart was in imperious form to deny the hosts in the newly re-opened Maracana, but once Fred made the breakthrough after 57 minutes it looked like Brazil would cruise to victory.
But the introduction of Oxlade-Chamberlain, 19, proved a turning point as he took Phil Jones's place in midfield, with Jones moving to right-back.
It gave England a more positive outlook and the Arsenal teenager scored six minutes after coming on.
"To be able to score at a venue like this against Brazil is amazing for me," Oxlade-Chamberlain told BBC Sport.
"I have been trying to improve my goal record for England and I had a chance against the Republic of Ireland last week to win the game.
"I was disappointed I missed that one and I said to someone before this match that I hoped I got a chance to score.
"The most important thing is that the goal contributed to the team and Wayne went on and made it 2-1. In the end we were disappointed not to see the game out."
Oxlade-Chamberlain, who usually plays on the wing for his club, played in central midfield after coming on and would welcome the opportunity to play in that position again for England.
"It's where I grew up playing," he said.
"I have only been playing out wide since my first season at Southampton. Before that I was always playing central midfield so whenever I get an opportunity to go more central I do really enjoy it.
"More game time in that position will help me to become more confident there. I have to make sure I can come in and play that role if needed."
Oxlade-Chamberlain's father, Mark, played in the Maracana the last time England won there in 1984 but he told BBC Radio 5 live that he missed the goal after falling asleep.
Hodgson said: "Phil Jones was doing a good job in midfield but he is a defender playing in midfield rather than an out-and-out midfielder."
Hart was magnificent in keeping England in the game when they were under siege in the first half.
But the Manchester City goalkeeper played down his performance.
"There's nothing to get carried away about," Hart told BBC Sport. "Two goals have gone in.
"I have got high standards. The result is a big boost but it's not a surprise. We've got players who will give their all. We'll continue to do that regardless of criticism.
"All these people calling for us to go out and 'bop' it, we'd have lost 10-0 today. We did the right thing and nearly got the result."
The draw comes after England beat Brazil 2-1 at Wembley in February.
Despite the first-half performance, Hodgson said he was disappointed his side did not claim a second victory over the five-time World Cup winners.
He added: "Some draws can be labelled victories and some draws can be labelled defeats. We were disappointed after the Ireland game not to win and I was also disappointed today because we scored quite late on.
"We played so well in the second half. I thought we might hold on to it but we were scotched by a wonder strike.
"We didn't play anywhere near as we would like to play in the first half and Brazil did, so if you look at the game over 90 minutes it was a fair result."