Fifa will take its time on route to redemption
By Richard Conway
BBC Sport in Mauritius
Last updated on .From the section Football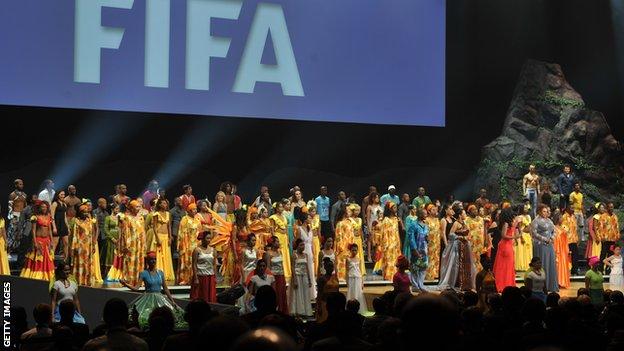 A "historic occasion" was how Fifa's president Sepp Blatter described the annual congress of football's world governing body in Mauritius.
Football executives, drawn from 208 nations, landed on the palm-fringed shores of the Indian Ocean island last week for their jamboree.
They came with the intention of rubber-stamping a series of key measures designed to change football's governance and how Fifa is perceived.
Administration of the world's most popular sport is, of course, never going to be the most fascinating of subjects for fans.
But after a period in which Fifa has endured major corruption scandals, suppressed internecine fighting surrounding its presidential election, and courted controversy in deciding who will host future World Cups, it is evident that decisions made by the Swiss-based organisation have a major impact on football and affect matters that everyone connected to the game cares about.
It was against this troubled tableau that Blatter instigated a reform process, realising that evolution was an urgent necessity if the 109-year-old institution was to continue leading the sport.
But with the decisions now made what exactly has been accomplished? What will be the legacy of Fifa's period of reflection and action? And what will happen next?
REFORM
An 'Independent Governance Committee' (IGC) was created in 2011 by Fifa and was given the task of reforming Fifa's complicated structures, committees and rules. A series of suggestions were put forward by the group, led by Swiss professor Mark Pieth.
The measures were designed to increase transparency and bring Fifa into line with other major non-profit organisations.
Some were implemented immediately while others required the approval of the Fifa Congress.
The measures that have now been introduced include:
switching the final say over who hosts the World Cup from Fifa's powerful executive committee to its member associations

reform of its ethics code, which defines rules on behaviour

reform of its disciplinary process underpinning the ethics code by creating separate investigatory and adjudicatory bodies

an independently chaired audit and compliance committee

greater financial controls and oversight on football development money given out by Fifa, together with increased audit powers

compulsory integrity checks for new officials.
Some things did not make it onto the agenda. Fifa's executives either rejected or couldn't reach agreement on three major points:
independent observers within the executive committee

age and/or term of office limits for officials

publication of overall compensation and salaries of leading officials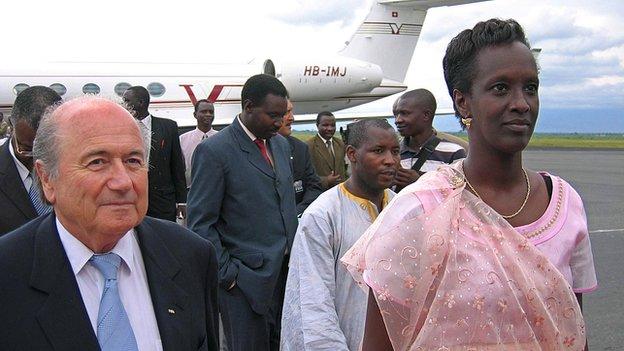 This failure prompted one IGC member, Alexandra Wrage, to resign in protest over what she believed was a "neutered" process. She also argued several measures had been watered down, such as the integrity checks.
Proposals over an age limit or a cap on how many terms an official can serve have been postponed until next year. Uefa, the European confederation, registered its dissatisfaction when its member countries abstained in the vote to confirm the delay.
The wider significance of age and term limits comes into focus when examined in the context of the potential rivalry between the head of Uefa, Michel Platini, and the incumbent Sepp Blatter when the presidential election is held in 2015.
Blatter, 77, promised in 2011 that he would not stand for re-election in 2015, but now appears to have changed his mind.
Former France international Platini is widely seen as the leading candidate to replace him.
So any decision to introduce age or term limits could have a major impact on Blatter's own prospects.
Platini, when asked by BBC Sport how further delays could affect the 2015 election, mischievously smiled and simply said "ask him [Blatter]".
There also doesn't appear to be much appetite from Fifa to tell the world how much its key officials earn.
Opponents argue that transparency on pay deals for leading individuals is standard with multi-national, non-profit organisations.
Fifa points to the fact that the overall total sum of money paid to leading officials is published in its accounts and levels of remuneration are set by an independently chaired committee.
But, for an organisation with cash reserves of $1.2bn (£790m) many see movement in this area as vital if the organisation is to become truly transparent.
Pieth used his speech to congress to invite Blatter and Fifa secretary-general Jerome Valcke to show "they have nothing to hide" and urged them to "catch up" with the corporate world.
There has been no response from either man to the request as yet.
Blatter has a fondness for nautical analogies and last week was no exception, declaring after the reforms were passed: "As the captain, I am pleased to say we have weathered the storm.
"We have emerged from the troubled waters stronger and now we can look forwards to the future and waters as calm as the beautiful sea around us in Mauritius. And I think the boat can now go slowly into the harbour."
His critics fear that the vessel may still be liable to capsize en route given their belief the reforms do not go far enough.
WOMEN EXECUTIVES
A distinct part of the reform process has seen Fifa push to have more women installed in positions of power.
Last year it appointed Lydia Nsekera, the head of the Burundi FA, to serve a one-year term on its executive committee.
It then decided that congress would hold a vote to elect one woman for a four-year term.
Each confederation was invited to put forward a candidate.
Nsekera won the vote but the two losing candidates - Moya Dodd of Australia and Sonia Bien-Aime of Turks and Caicos - will also now serve a one-year term as co-opted members.
What happens after the term expires is unknown.
But Blatter undermined Fifa's proactive stance on gender equality when he called on women attending congress to "say something ladies, you are always speaking at home, now you can speak here".
Earlier in the week he referred to Dodd as a "good and good-looking" candidate.
Former IGC member Alexandra Wrage has also spoken of the "blatant" sexism she encountered in the upper echelons of the organisation.
ANTI-RACISM AND DISCRIMINATION RULES
Football believed it had consigned racism to its past but, after a series of incidents both on and off the pitch in recent years, Fifa decided to get tough.
In March, Fifa executive Jeffrey Webb was appointed to form an anti-racism and discrimination taskforce with the aim of presenting a series of proposals to Congress for approval.
The resolutions were overwhelmingly passed - a "defining moment" for football, according to Webb - although the sole country which voted against the proposals has still to be identified.
Players now face a minimum five-match ban while teams whose fans continually offend face stadium closures followed by point deductions, relegation or elimination from competitions.
Fifa also wants its member associations to enshrine the laws in their own domestic rulebooks.
Questions have been raised, though, about how Fifa's "zero-tolerance" approach to discrimination tallies with awarding the 2022 World Cup to Qatar, where homosexuality is illegal.
THE FUTURE
Fifa has undoubtedly changed over the past two years.
The departures of Jack Warner, Chuck Blazer, Mohamed bin Hammam, Ricardo Teixeira, Nicolas Leoz and honorary president Joao Havelenge - all tainted by corruption - has brought about a changing of the guard at the top of the organisation.
And beneath the surface there appears to be a real change of tone too.
Domenico Scala, the independent chair of Fifa's audit and compliance committee, made it very clear when speaking to the media in Mauritius that he intends to use the powers vested in him to crack down on any sign of financial mismanagement or malpractice.
Significantly he also intends to exercise the power he holds to attend, unannounced, any Fifa committee he chooses to.
But the legacy of the pre-reform years could still hit Fifa's credibility and its image has not yet been detoxified despite recent efforts.
Blatter's current ambiguity over his future may also lead to further conflicts in the build-up to the presidential election. His actions and words of late are certainly not those of a man thinking of retirement.
Other issues facing Fifa include potentially moving the 2022 Qatar World Cup from the summer to winter.
The Gulf state may also be subjected to a possible ethics investigation into its winning bid after persistent but unsubstantiated rumours concerning its bid process.
Blatter recently told French newspaper L'Equipe it would be "good" to have an investigation, if only to prove Qatar's innocence.
"Nobody proved that there were pay-offs so that Qatar was chosen," he said.
"The ethics commission can open an investigation. That would be good to prove that this was done correctly."
Has the ship sailed to calmer waters as Blatter believes?
Next year, when Fifa's delegates arrive in Sao Paolo, Brazil, for its 64th Congress, we may have a better idea which way the wind is blowing.