Jose Mourinho: Premier League apologises over story 'mistake'
Last updated on .From the section Football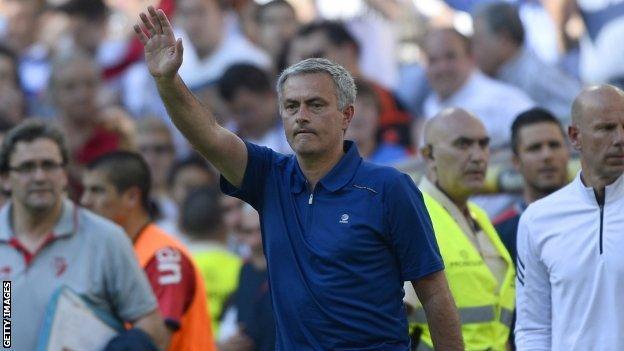 The Premier League has apologised to Chelsea after publishing a story on its website saying Jose Mourinho had returned as manager of the Blues.
The story appeared on Sunday with Monday's date and was later removed.
"It was a publishing error. We took it down as soon as we were notified of it. We've apologised to Chelsea," said a Premier League spokesman.
He added that the Premier League had no prior knowledge of any movement or any announcement regarding Mourinho.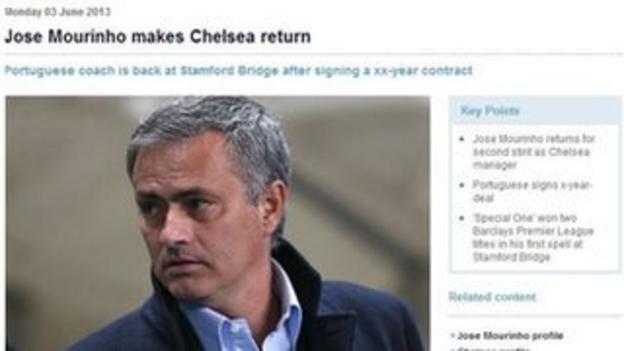 The story was headlined: "Portuguese coach is back at Stamford Bridge after signing a xx-year contract."
It went on: "Jose Mourinho returns for second stint as Chelsea manager. Portuguese signs x-year-deal."
Chelsea have made no comment.
Mourinho signed off from his three-year spell at Real Madrid on Saturday with a 4-2 win over Osasuna.
He is widely expected to return to Stamford Bridge and link up again with the club he first joined in 2004 and led to back-to-back Premier League titles in 2005 and 2006. He left to join Inter Milan in 2008.
In response to the anticipated confirmation of the Portuguese's return to west London, David Johnstone, spokesman for Chelsea fanzine cfcuk, said Mourinho could bring the club together again.
"The Chelsea players and the supporters will love him," he said. "For a lot of time since he left, supporters haven't been united. Last season saw probably the worst show of disunity I've experienced since I started following the club 40 years ago.
"Hopefully he will unite the fans.
"It will be a relief once the deal is finally announced and he will be welcomed back. He shouldn't have left in the first place and hopefully second time around it could be even better."
Following Saturday's match against Osasuna, Real defender Ricardo Carvalho, who has agreed a deal to join French side Monaco, hinted that Mourinho was heading back to London.
Carvalho played for Chelsea under Mourinho - and when asked whether they could win next season's Premier League, the defender said: "I'm sure in two, three years they can but even in his [Mourinho's] first year he can win it again.
"When we arrived together in 2004 Chelsea had not won the league for 50 years so I hope now they can win it again. Jose is a special coach and I think he deserves all the best because he works very hard."