England are not winning enough games, admits Roy Hodgson

By Phil McNulty
Chief football writer in Rio de Janeiro
Last updated on .From the section Football319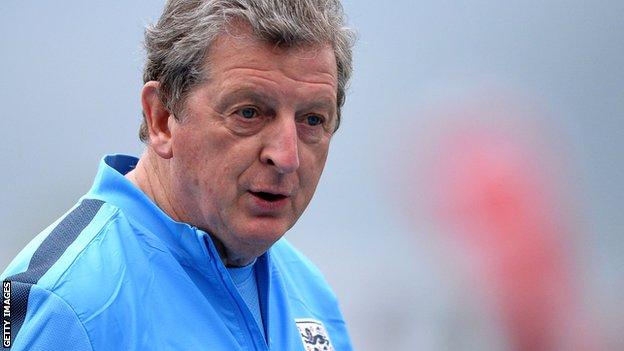 Roy Hodgson admits England are not winning enough games under his management but is sure his men will qualify for next summer's World Cup.
England face Brazil in Rio's Maracana on Sunday having drawn four and lost one of their last eight games.
Asked if England were securing enough victories, Hodgson said: "No we're not.
"One of the areas where we've been, to say the least, unfortunate, is in the choice of front players and the availability of front players."
Daniel Sturridge did not make the trip to Rio after damaging ankle ligaments in the 1-1 draw with the Republic of Ireland at Wembley on Wednesday, while Danny Welbeck has not recovered from a knee problem.
However, Hodgson remains upbeat about England's hopes of being back in Brazil next year.
His side have four remaining qualifying games, starting on 6 September at Wembley against Moldova and are currently second in their group, two points behind Montenegro.
They then go to Ukraine before hosting Montenegro and Poland.
"I'm looking forward to coming back here again next year," added Hodgson.
England's tactical approach against the Republic was criticised by former striker Gary Lineker as a return to "the dark ages" but Hodgson insisted he would not allow such comments to get to him.
"I'm enjoying the job every bit as much [as before]," he said. "I'm perfectly happy for anyone who wants to to come up with criticism. They are quite entitled to it but I'm more than happy with the way we are playing and moving forward."
The former Fulham and West Brom boss insists Sunday's friendly cannot be used as much of a yardstick of progress, however.
"I am picking a team at the end of the season with the players available to me," said Hodgson. "In September there might be as many as six or eight very, very interesting, very talented players pushing for a place in the team.
"I don't really understand how a game at the end of a long season here in Brazil can be a tremendous barometer."
But he said he was still desperate for his side to turn in an impressive performance.
"I'm not suggesting this is an unimportant game. There are no unimportant England games and there are no friendly games either. There are only preparatory games and there are only games we want to win and there is an awful lot of prestige in this one," he said.
"It is the opening of the new Maracana - one of those iconic grounds where all footballers would like to have said in their career 'I stepped out and played'.
"We would like it even more if we can do it next year but we have got this chance this year.
"I know there are going to be 11 players who are desperate to play, delighted to have been given the chance and with only one thing on their mind, which is to come off with a good result against Brazil.
"But I am not prepared to say that if we play well and win then it is all hunky dory for September, and if we don't that we might as well forget September, because we haven't won this one."
Captain Steven Gerrard leads the list of absentees here in Rio, which makes England's task in one of the great arenas of world football even more difficult.
Hodgson said: "People back home may realise the situation we find ourselves in as well as we do. They also know that some of the players we may be counting on playing are not with us, so it is a great opportunity for others.
"There are shirts up for grabs and what better opportunity really for you to show 'you can count on me and I'm the player you should be looking at' than to go out at the Maracana against Brazil and play well? It is going to be an enormous feather in your cap.
"But we've got to be careful because the fact is after we played Brazil recently and won at Wembley it seemed everyone was predicting wonderful things and then we go to Montenegro and don't play so well and draw, and suddenly we are back again to square one.
"We don't personally feel we are riding the rollercoaster from fantastic world beaters to absolutely hopeless but we have to accept that could be a perception."