Murdo MacLeod - the Team Talk XI
Last updated on .From the section Football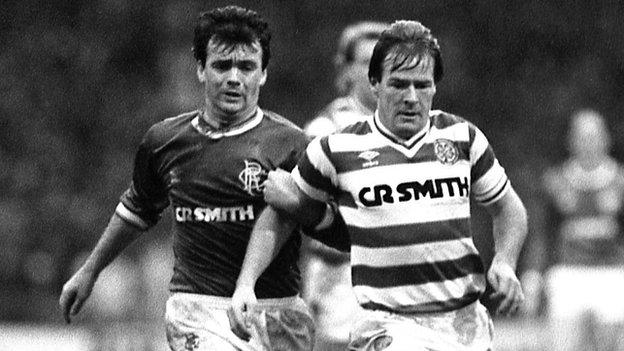 Murdo MacLeod's playing career began at Dumbarton before he moved in 1978 to Celtic, then Borussia Dortmund, Hibernian and Partick Thistle. Here he chooses his Sportsound Team Talk XI.
The reason I picked a Celtic-only team was that I've been to a few clubs, I've played for Scotland, but I played with some of these players for only a couple of games. I thought I'd rather pick a team that I've played for years with. I've picked one foreigner and the rest are all Scots. The Scottish fighting spirit made so many football sides so good.
Goalkeeper - Pat Bonner
You just need to look at his career at Celtic. He got an early start in the first team and went on to play 600-odd games for the club, so he just got stronger. Packie was a good all-round keeper, you just watched him progress over the years. He was a good talker at the back as well. As a shot-stopper I thought he was very good, but crosses, I don't think he's come for one yet!
Right-back - Danny McGrain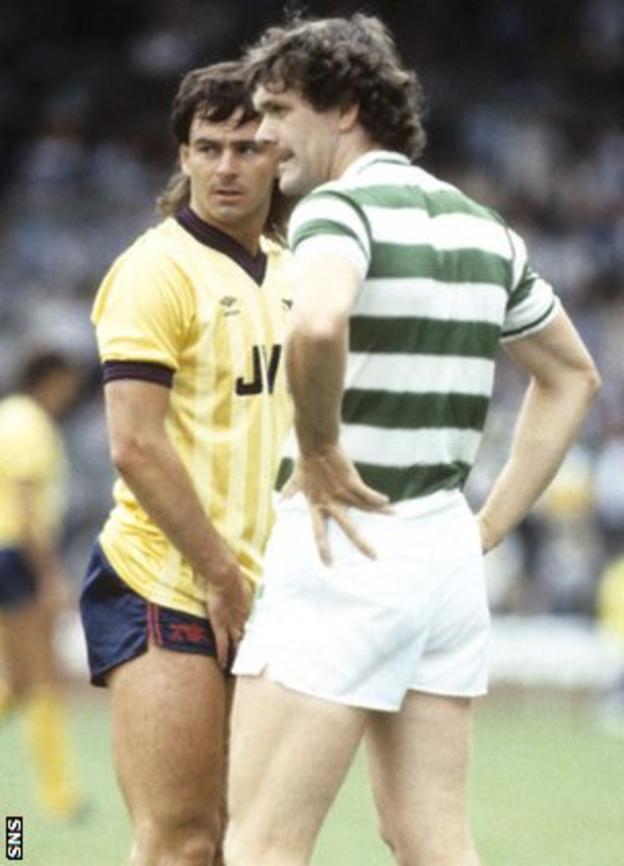 For a right-back from Scotland, no matter who you support you'd pick Danny McGrain. I was fortunate to arrive at Celtic Park and Danny was still fit, getting on in years, but goodness me, the football brain he had. He was always up and down the park, strong as an ox, hard as nails - but could pass and never gave the ball away - and never scored a goal! In training, in five-a-side games he'd score all the time, but, when it came to 11-a-side matches, he just couldn't do it.
Central defence - Roy Aitken and Tom McAdam
I think every manager in the world would want someone with the attitude of Roy Aitken. A real winner at everything, the typical football player you like to have in your squad. I don't think we were a soft team, we had one or two that could put their foot in, but Roy was the type that got involved.
A lot of people felt he was big and strong a wee bit clumsy, but Roy had a good touch and he could pass the ball. He was as good at the back as he was in the middle of the park.
Tom McAdam was a former teammate at Dumbarton who played centre-forward and now he was the centre-back. He played 350 games for Celtic, which a lot of people forget. Tom was good in the air, two-footed, he read the game well - not a natural centre-back, but I just felt he was very consistent.
Left-back - Derek Whyte
Derek played centre-back or got pushed along to left-back. He blended really well with the rest of the team, he had a nice left foot - but he could hit row Z in the stand every now and again! He was very quick, and every manager wants a defender that can move.
Right midfield - Davie Provan
I would have loved to have said Jimmy Johnstone, but Jimmy finished shortly before I arrived. Davie arrived a couple of months before me, and what a fantastic player for the club. A great wide player, a great out-ball. If you were anywhere on the park and didn't know where to put the ball, just bang it wide right and Davie Provan will not be far away.
When he got up to defenders he just needed that half-a-yard, he wasn't dribbling by defenders and getting away from them before delivering a cross. Give Davie Provan half a yard and he'd curl it round the defender.
In the early days, Davie would have the socks round the ankles thinking he was a trendy. It was just when Doug Rougvie of Aberdeen would whack him now and again that he'd put the shin guards on!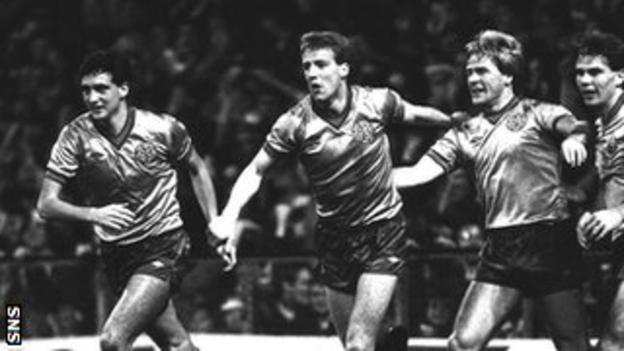 Central midfield - Paul McStay
He was before his time in terms of keeping possession of the ball. He had a great touch, good vision, I'd say two-footed. He could ping a great pass and read the game very well. He came into the first team at 19 and settled in so well in the main part of the football team. He wasn't fazed. He was quiet on the park but led by example.
Left midfield - Tommy Burns
Tommy was never quiet. He could start a fight in an empty house! I used to do Tommy's running for him! I used to give him the ball and if he lost it I used to get it for him again. He had great skill. He had a great left foot. He would float by players down that left-hand side. He could thread a pass through the middle for the strikers. So often now the ball has to go down the sides.
Midfield/Forward - Brian McClair
It is unfair to say he is a normal midfielder and I don't think you'd say he is a normal striker. He played in-between. Celtic have always had the flashy strikers. This guy wasn't but he scored more than any of them. He signed him from Motherwell and he could play anywhere.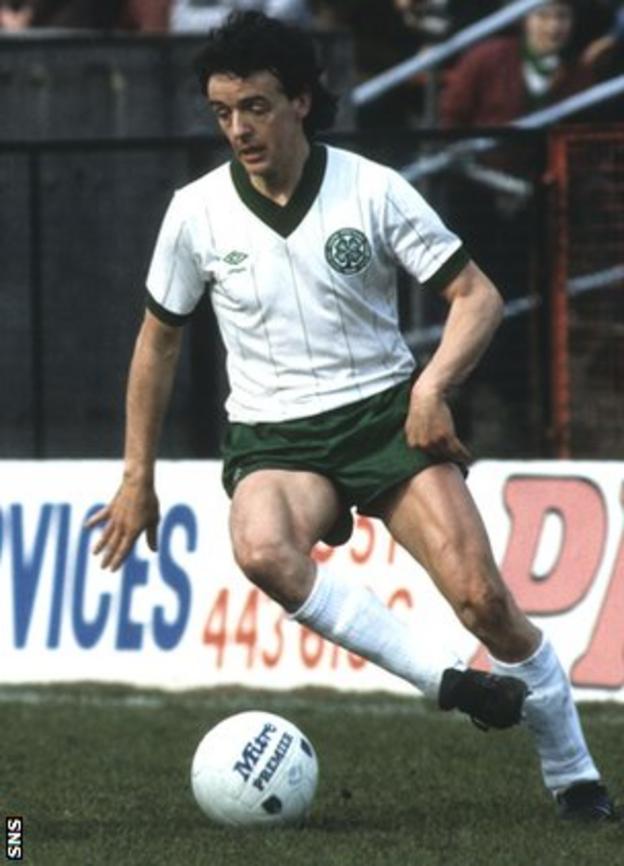 You just need to look at his record and I don't think there is anyone better in such a short space of time. He never gave up. He could run all day and fight all day. He was quieter than Paul [McStay]. He was hardy. He could look after himself. In the dressing room he wasn't a great talker. He had a different sense of humour from some of the boys but he was always a great part of the team.
Forwards - Charlie Nicholas and Frank McGarvey
He was a kid coming into the squad. He was a wonderful talent. He was a player who brought something to the team. He was not the quickest. The amount of times he had his back to the goal and he'd turn the defender. He created so much space for himself. He was two-footed. He'd score from inside and outside the box and make great runs to the front post.
Frank McGarvey's record is just fantastic. The big plus point for Frank was the defenders never knew what he was going to do because Frank himself never knew what he was going to do! He was fearless. I think in one game he continued with a broken leg for 10-15 minutes at Tannadice. He had a great attitude. Celtic have always been blessed with strikers who could score goals - McClair, Nicholas, McGarvey, George McCluskey, Maurice Johnston.
Manager - Billy McNeill
For me, he was a footballing god. Going in to Celtic Park to sign I was so nervous. And meeting Billy McNeill - he had an unbelievable presence. Billy was so passionate. He had been the manager at Clyde and Aberdeen and had come back to the club that everyone associates him with.
When Billy was about you didn't mess about, you wanted to impress him all the time. If things weren't going well, he'd have a go. He was a fantastic man-manager, the way he'd build you up before a game. You'd have the team talk and everyone would feel 10ft tall going into the game, but then he'd pull you aside to have a wee word in your ear and you'd feel a few feet taller.