Brazil v England: Pure football overshadows Maracana problems

By Phil McNulty
Chief football writer
Last updated on .From the section Football95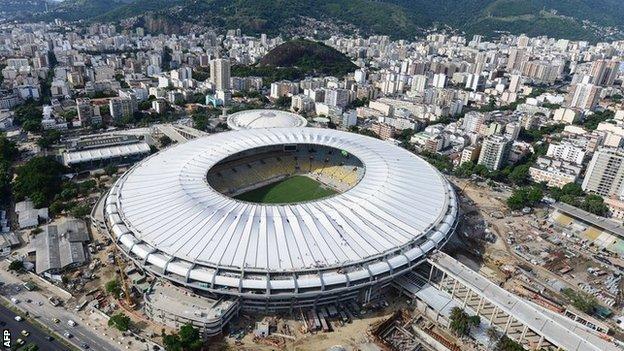 The stadium that stands as a monument to Brazil's place in football's world order may be suffering - but the heart and soul of this country's all-consuming love of the game remains in the best of health.
And both have been in evidence in Rio as England prepare for Sunday's friendly in Brazil, a journey they hope to make again in 12 months when the World Cup is hosted here.
England will play at the Maracana, a newly refurbished temple where Brazilians have been coming since 1950 to worship their sporting gods, but an arena at the centre of embarrassment almost from the moment Roy Hodgson's team touched down in Rio.
The game was suspended by court order on Thursday amid safety fears but the decision, along with all the potential consequences this entailed for Brazil's authorities, was swiftly overturned and "bureaucratic failure" blamed for the original move.
English Football Association officials on duty in Brazil were always relaxed about the game being played after being given solid assurances - but there is no doubt the incident shone an unflattering light on the work being done at the Maracana and this country's preparations for next summer's carnival.
In truth this game was never going to be cancelled. The humiliation for Brazil of inviting England here to South America then sending them home without even getting a game would simply have been too catastrophic for the country's image to contemplate.
This may be a friendly but it is also Brazil's opportunity to show off their famous football home in its new guise, rebuilt over three years and at a cost of more than £300m. They can still put it on display but there is no doubt some of the gloss has been removed from the new 78,000-seater stadium by events of the last 48 hours.
Brazil is staging the Confederations Cup in only two weeks and this latest affair, even though it has been resolved, is another dent to the image of a country always intent on portraying itself as the sport's natural home.
The Maracana's reopening was delayed twice and a test event, played in front of only 30,000 supporters, led to criticism about uneven flooring, a lift that failed to function, walls still under construction and water flowing into VIP areas. This was not how it was meant to be.
When the game was originally suspended, a prosecutor asked for the decision to be taken because there was debris, rubble and building material lying around outside the stadium that could possibly be used as missiles as well as general worries about safety and hygiene.
There is no doubt plenty of man-hours will be devoted to ensuring the Maracana can put on a show on Sunday - and just the mention of the name still evokes excitement and colourful imagery among those of us who are about to sample its atmosphere for the first time.
What those in authority in Brazil do not need, not to mention Fifa, is any more hitches or flaws to be uncovered before or during the visit of England, which is always regarded as a special moment here despite the two countries occupying different football worlds in the modern era.
It is England's first game in Rio since they won 2-0 in 1984 and this would be a national embarrassment in a country where football is meant to be the symbol of pride and joy.
And to visit Brazil is to witness first hand the joy this sport brings to its people. Copacabana Beach was quiet as rain fell on Avenue Atlantica on Friday, but 24 hours earlier it had been home to those many football matches played on its sands.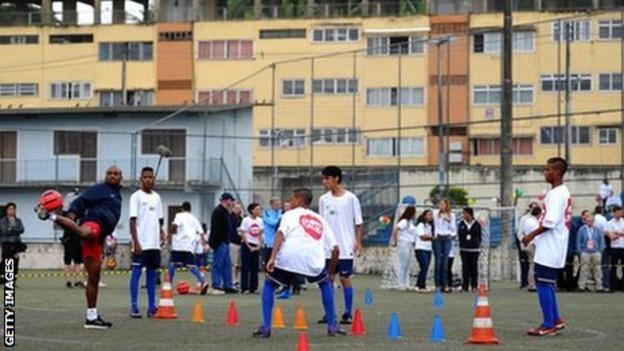 Football can also be a force for good here, as England discovered for themselves when they paid a visit to one of Rio's disadvantaged communities to see the work done by the Sport Relief-funded Bola Pra Frente project.
A drive to Rio's outskirts and through narrow streets leads to Bola Pra Frente, which is in an area where many children grew up surrounded by poverty and crime.
FA chairman David Bernstein led the party, along with manager Roy Hodgson, coaches Gary Neville and Dave Watson and players Joe Hart, Theo Walcott, Jack Rodwell and Jermain Defoe. It provided uplifting moments for the many gifted young footballers on show who were keen to demonstrate their prowess to England's Premier League stars, who also clearly enjoyed the experience.
Those born in the country of Pele, Jairzinho, Ronaldo and so many more do not impress easily and all of England's representatives were put to the test. FA chairman David Bernstein was even dragged, albeit briefly, into a game and the odd touch earned him the nickname of "Bernsteinho" from one mischievous observer.
Hodgson, accused by former England great Gary Lineker of taking the country back into "the dark ages" after the disappointing 1-1 draw with the Republic of Ireland, watched football in its purest form, played by Brazilian youngsters who treated the ball as their closest friend in an impressive demonstration.
The serious football work started for England with a training workout at the Urca Military base on Friday afternoon before getting their first taste of the new Maracana with a session there on Saturday.
The allure of the Maracana will not be lost on England players who have grown up with the stories of these Brazilian legends. They will be ready - and all of Brazil will hope the same can be said for the updated version of one of the game's great arenas.