Bridging first-team gap proves toughest hurdle for under-21s
By Alistair Magowan
BBC Sport
Last updated on .From the section Football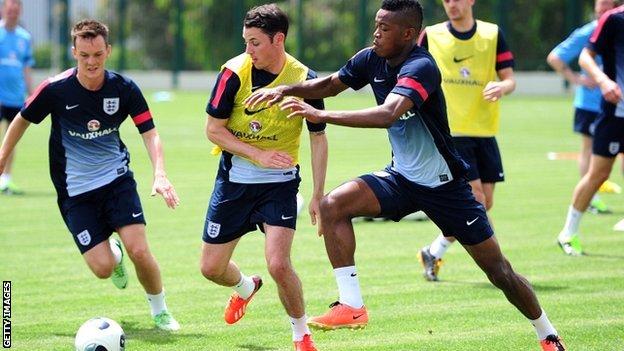 Three seasons ago, Chelsea midfielder Josh McEachran looked like he would become the first English player since John Terry in 1998 to graduate from the club's academy and become a first-team regular.
McEachran (above, far left) was 18 at the time and under previous manager Carlo Ancelotti made 17 appearances in a season where Chelsea finished runners-up to Premier League champions Manchester United.
Despite winning the title the previous term, the experienced Ancelotti made way in May 2011 for new boss Andre Villas-Boas, one of three new managers in the following two seasons.
England Under-21 international McEachran has made just five Chelsea appearances since, spending the last season and a half on loan at Swansea and Middlesbrough.
His story is symptomatic of the current status of the Premier League where youngsters are finding it increasingly harder to break through to the first-team environment.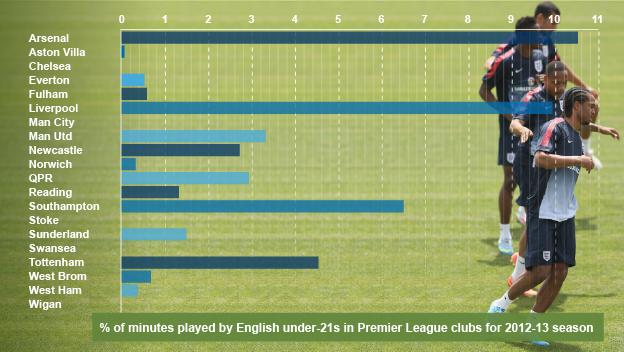 In 2005, 10.33% of the minutes played by Premier League players was by under-21s, the highest figure of Europe's big five leagues. In eight seasons it has dropped to 4.45%, lower than all its major competitors.
According to research by the CIES Football Observatory, when English under-21s are considered, the figure falls to 2.28% for last season, the lowest it has ever been. Only 35 English under-21s played in the Premier League last season, also a new low.
McEachran is not alone in his quest, however. He will be joined in the England team as they kick off their European Championship challenge on Wednesday by Chelsea team-mate Nathaniel Chalobah.
Fellow midfielder Chalobah, 18, is also attempting to break into the first XI at Stamford Bridge, having just spent his first season of professional football on loan at Watford, and he is under no illusions about the challenge he faces. Chelsea were one of five top-flight teams in England which did not field a single English under-21 player last season, although Swansea did field a Welsh under-21 player - Ben Davies.
Chalobah told BBC Sport earlier this year: "Regardless of whether you are English or foreign, for a young player to get in the team is going to be difficult because of how much talent that is in there. It's all just down to the manager and if he thinks you are good enough to be in the squad.
"Josh got his chance when Carlo was there, and played a few games under him. Now it's at a stage when the club is under pressure and the club need to play their big names and unfortunately there is not a place for him in the squad."
With Jose Mourinho returning to the Chelsea hot seat this summer, Chalobah remains hopeful that his time will come but the issue could have wider implications for the senior England team.
The Football Association and England's top flight have been accused of having different agendas on many occasions but the Premier League says it is aware of how its riches and the influx of foreign players has impacted on developing youngsters through club academies.
Young players now need to be "world-class" and it hopes its £320m Elite Player Performance Plan (EPPP) will tackle some of the problems head on.
Measures brought in at the start of last season have split academies into four categories and will increase the number of hours kids train and improve the quality of coaching they receive. An under-21 Premier League has also been set up to improve the path through to the first team.
But Football Association director of football development Trevor Brooking says it could be 10 years before the changes are felt.
He says English football "has fallen off a cliff" when developing 12 to 16-year-olds so by the time they reach the end of this period "they are not good enough". Chief among the reasons for this, he says, is a lack of full-time coaches who are paid an appropriate salary.
Premier League director of youth Ged Roddy rejects Brooking's timescale. He says an "impact" could come within three to five years.
"If you have significantly increased the contact time and the quality of the coaching of a 14 or 15-year-old, then within two to three years you would expect to see an improvement in terms of the number of players that you get through the system. This is assuming that coaching is effective and you have been able to give this player more than he would have previously." he said.
During that time, bridging the gap from 18 to 21 may yet become the ultimate barometer.
David Pleat is one of the under-21 Premier League's technical match observers where he analyses tactics, player performances and coach behaviour in order to audit standards.
He says that, although the standard is "quite high" among the top sides in the under-21 league, he still believes the first-team opportunities for English players have become more limited because of international owners.
"It is difficult because you do have foreign owners and you do have foreign coaches and because they see their career as more short-term unless they are successful quickly, they are more likely to tend to go for tried and tested, which means foreign players.
"Some of the financial prizes for rising one place in the Premier League are so high now that clubs will jeopardise their youth in order to get those financial rewards."
With a record Premier League television deal, valued at £5.5bn, due to come into force next season, the temptation to buy ready-made players will still exist, yet it could also give clubs more breathing space to take time to develop their own.
Some envious glances have been cast towards Germany where not only did the Bundesliga's two top teams - Bayern Munich and Borussia Dortmund - contest the Champions League final last season, but also the percentage of playing time for national under-21 players was almost three times the amount of the Premier League.
Former Tottenham manager and technical director Pleat recognises that the Germans have benefitted from the Bundesliga and the national association (DFB) working more closely together than their English counterparts. But he also believes that outside the top two the standard is inferior to England's top flight.
In that sense if players do break through, then they have every chance of making it to the top of the game.
As Pleat says: "It's nothing to do with the players, we have some very good ones, but it's about opportunity."