Rio Ferdinand calls for a new coaching strategy in England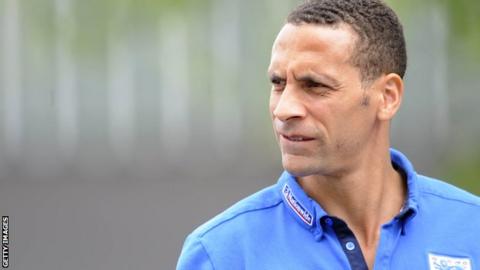 Manchester United defender Rio Ferdinand thinks a new coaching strategy for young players is needed in order to develop English football.
Ex-England striker Gary Lineker said the national side's tactics in the draw with Republic of Ireland on Wednesday were "a step back to the dark ages".
And Ferdinand, 34, who retired from international duty after winning 81 caps, added to the debate on Twitter.
"In the last 10 years when have England played consistently well?" he wrote.
"In most Premier League teams retaining the ball is done best by foreign players in the team, they are taught to pass to a man with a man on.
"A coaching strategy for our young teams/kids needs to be implemented to see change."
Lineker, 52, who won 80 international caps between 1984 and 1992, scoring 48 times, criticised England after they produced a lacklustre performance in the 1-1 draw at Wembley against Giovanni Trapattoni's side.
He added that Brazil would "thrash" England in Sunday's friendly in Rio if they played in the same manner.
The match is due to go ahead despite safety concerns at the recently renovated Maracana stadium.
Hodgson responded to Lineker's criticism by insisting his side, who sit second in their World Cup 2014 qualifying group with four games to go, are on the "right track".
Ferdinand became the youngest defender to play for England when he made his international debut as a 19-year-old against Cameroon at Wembley in November 1997.
He was part of a group of talented English players who failed to make an impact in the latter stages of major international tournaments.
"The so-called 'Golden Generation' obviously wasn't because we won nothing. Great players don't always make great teams," Ferdinand said.
The former Leeds United defender played at three World Cups - 1998, 2002 and 2006 - but was ruled out of the 2010 tournament in South Africa because of a knee injury.
Ferdinand also missed Euro 2004 after being banned for eight months by the Football Association for failing to attend a drugs test in September 2003.