Premier League money funds repairs at Jersey's IJB ground
By Tim Pryor
BBC Radio Jersey
Last updated on .From the section Football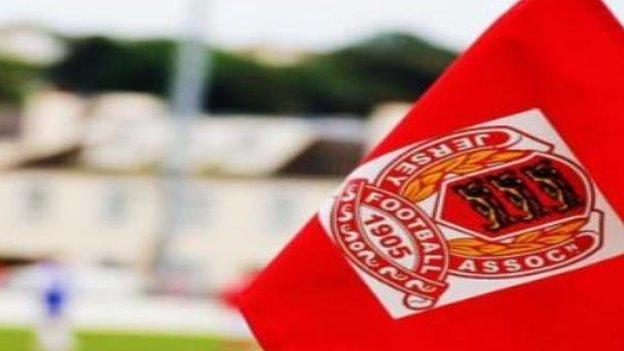 Money from the English Premier League will fund repairs and renovations at the IJB ground in Jersey.
More than £8,000 from the Football Stadia Improvement Fund (FSIF) will be used to replace fencing and upgrade the clubhouse.
Jersey Championship side Sporting Academics will continue to play there next season.
"A lot of the IJB has been around for 30 or 40 years now," club secretary Ken Brierley told BBC Radio Jersey.
"It has wire fencing all around the perimeter and over the years some of that's rusted away, so all that needs either replacing or repairing.
"The dressing rooms are in need of a spruce up and just generally we'll be cleaning up the place."
The ground, near Maufant, is owned by the Jersey Football Association with Sporting Academics as the tenants.
Funded by the Premier League with £6m every year, the FSIF gives grants for projects including the installation of floodlights, building stands and creating new entrances.
"I am delighted that my colleagues and I have been able to award this grant to the Jersey FA to allow them to renovate the IJB football ground," said FSIF chairman Peter McCormick.
"We work hard to make sure that the funding that is generously provided by the Premier League each year goes as far as possible and benefits as many clubs and supporters as it possibly can."