Fifa set to vote on anti-racism and discrimination proposals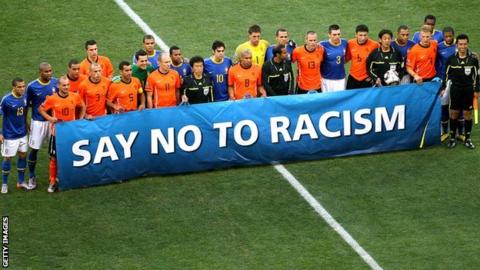 Fifa will hold a vote on Friday about proposals it hopes will help eliminate racism and discrimination in the game.
The planned measures, from Fifa's new anti-racism taskforce, will introduce extra observers at games and tough penalties for clubs whose players, officials or fans are guilty of racism.
The head of the taskforce has warned that the reforms will be wide-ranging and impact on every member association.
"No-one will be immune to this," Jeffrey Webb told BBC Sport.
Speaking in Mauritius, where Fifa's annual congress is being held, Webb described the sanctions as a "wake-up call" and warned that even future World Cup hosts could be punished under the new sanctions.
"For us, we have a problem. We must find the solutions and everyone must take note that if you infringe on this then penalties... must apply," he added.
The new regulations were designed initially for Fifa's own competitions but Webb's taskforce will propose that the new sanctions should be universally applied.
"Fifa adopted disciplinary codes against racism in 2001," said Webb, who is also a vice-president of world football's governing body.
"Of course the mere adoption of those codes have not acted as a deterrent from a global standpoint so now we're going to mandate, with the support of congress, that these be adopted in all 209 member associations around the world."
That raises the prospect of club sides facing penalties such as points deductions and possible relegation if their fans continually break discrimination rules.
Webb is convinced that financial sanctions have failed to modify behaviour and that sterner measures are therefore necessary.
"We believe that when you continue to have offenders there must be another level of punishment and expulsion," he said. "There must be point deductions, there must be the possibility of relegations.
"It will be a wake-up call for the unfortunate individual or club who has this happen to them in the first instance."
The taskforce is also proposing the introduction of anti-discrimination officers at key games to aid evidence-gathering and the introduction of a hotline for players and fans to report incidents.
"This must transcend the entire Fifa family, all 209 member associations around the world. The resolution must take effect. If we're going to have zero tolerance it must be zero tolerance in all 209 member associations."
In addition to the sanctions for racial abuse from the stands the taskforce will ask for a minimum five-match ban against players to be enforced.
But Webb believes there must be a concerted effort by all within the game to enforce the rules if the new resolutions are to have any impact.
"If we're going to go through with this process, if we're going to implement and have the approval of these sanctions then definitely the disciplinary boards, the disciplinary committees, not only from Fifa's standpoint but from a confederations standpoint, must do their job," he said.
"Racism on the field is deplorable and we must adopt complete zero tolerance."