England striker Wayne Rooney 'driven by international trophies'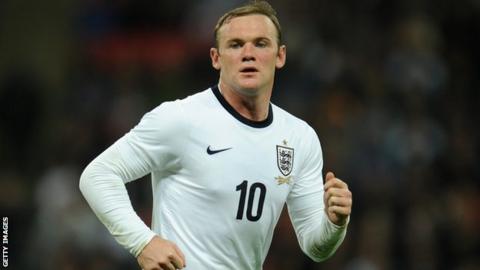 Wayne Rooney claims his England career will be "pointless" unless he wins major international honours.
The striker, 27, won his 81st England cap in the 1-1 draw with the Republic of Ireland at Wembley on Wednesday.
But he maintains that personal milestones mean nothing unless he wins the World Cup or European Championship.
"I could end my career being record goalscorer and maybe even record caps-holder, but if you're not going to be successful, it's pointless," he said.
"That's what I play for England for: to try to help England be successful."
The Manchester United forward, who made his international debut as a 17-year-old, is 44 caps short of Peter Shilton's record of 125.
And he needs 14 more goals to equal Sir Bobby Charlton's goal-scoring record of 49.
But Rooney is adamant that silverware is his dominant motivation.
He told Sport Magazine: "Some people talk about records, but I'm not really too fussed. I've always felt that, to be successful, you have to win trophies.
"That's the aim. It's not to see how many caps or goals I can get - it's to see if I can get a winner's medal."