Rangers: Club chairman Walter Smith urges board 'unity'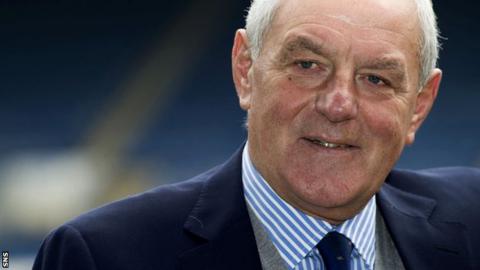 Walter Smith has urged "unity" on the board after being appointed non-executive chairman of Rangers.
The move follows weeks of in-fighting at the club and attempts to remove the previous chairman, Malcolm Murray.
"Unity among the directors is vital. We must all be on the same page as often as possible," said former Ibrox manager Smith.
"Malcolm stepped forward at a time when the club needed direction and I will always be grateful to him for that."
Smith, who won 10 league titles as Rangers boss, has been a non-executive director since November.
"Walter Smith is widely acknowledged as the club's most successful manager," the club said in a statement.
"Under his leadership, the club enjoyed two immensely productive spells and he is one of the most highly regarded figures in British football.
"He succeeds Malcolm Murray, who agreed to step down as chairman, and Walter Smith's appointment was a unanimous decision of the board.
"The board believes that the new chairman will bring stability, experience and a wealth of knowledge to the club."
Smith said Rangers had to move on and face the many challenges ahead as they try to rebuild the club and stressed he would not be "passive" in his new role.
"Rangers should always be at the pinnacle of the game and the fans deserve nothing less," he said.
"Although I have been on the board for some months this will be another departure for me but there are enough directors around to make sure we will make the kind of progress necessary and which our fans want.
"Unity among the directors is vital. We must all be on the same page as often as possible. We won't always agree but Rangers, this club and our fans must always come first.
"It is a great honour to be asked to take up this position and it goes without saying that I feel proud as well as humble. However, no one should believe that I see my role as a passive one."
Former Dundee United player and coach Smith became a Rangers assistant in 1986, becoming part of Graeme Souness's management team, and was promoted to the top job five years later.
Smith followed Souness's two successive league titles with seven more to equal Celtic's record of nine on the bounce.
After leaving Ibrox in 1998, Smith managed Everton and Scotland before returning to Rangers in 2007 and, with McCoist as assistant, he led the club to three more titles.
Rangers chief executive Craig Mather said the change would drive the club forward, adding: "We could not have a better man at the helm than Walter Smith."
Murray said he intended to continue supporting the club and helping where possible.
"Walter, who certainly doesn't need any recommendation from me, has my support and I believe he can bring stability and focus to the club as we look to the future of this fantastic club," added the former chairman.
"I am a Rangers fan. My family are all Rangers fans and not a single one of us would ever consider turning away from the club no matter the difficulties placed before us."