Northwich Victoria boss Lee Ashcroft banned for 10 games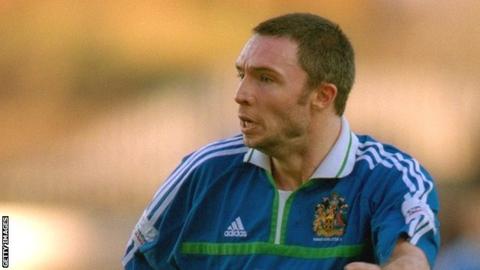 Northwich Victoria boss Lee Ashcroft has been banned for 10 matches for abusing a female opposition coach.
An independent Football Association commission found Ashcroft guilty of using abusive and/or insulting words in a game with Gresley FC on 12 January.
Hannah Dingley, the coach he abused, said: "It was severe - it wasn't just calling a few names - and I am glad the FA have taken it seriously."
Ashcroft, 40, has said he will appeal against the ruling.
First-team coach Dingley said she was "astonished" by the language used by Ashcroft, who was banned from all footballing activity for three months in 2010 for allegedly using foul and/or indecent language towards match officials while manager of Kendal Town.
"I have worked in different levels of men's non-league football for over 10 years and I have never even had anything you could call sexist abuse, let alone abuse to this level," 30-year-old Dingley told BBC Sport.
"The players who were sat around me were saying: 'Hannah, I have never heard anything like this before, you need to make sure you report it, it's not acceptable'."
Ashcroft initially denied the charge and requested a personal hearing.
But two days before it was due to take place, the former Preston North End, West Bromwich Albion, Grimsby Town and Wigan Athletic player cancelled his request.
Ashcroft, who is also a former England Under-21 international, has been manager of Northern Premier League Division One South side Northwich Victoria since November.
In January, he was named manager of the month - the same month the incident with Dingley took place.
Dingley criticised league officials for that decision, claiming they were guilty of not taking Ashcroft's behaviour "particularly seriously".
"It's surely saying that it doesn't matter what you do - you can be racist, sexist, physically abuse someone, anything - but if you win more games than anyone else, we'll still give you the award," she said.
Dingley, who holds a Uefa A licence, has previously coached at Nottingham Forest, Leicester and Lincoln Ladies and is also currently working with Sheffield FC.
Earlier this month, to deal with cases of discrimination.
Charges will be brought in the event of discrimination on the field of play relating to ethnic origin, colour, race, religion or belief, gender, gender reassignment, sexual orientation, ability and disability.
"Football is about inclusivity and we want everyone to play the game in a safe and welcoming environment," said FA chairman David Bernstein.