David Moyes' Everton successor has big shoes to fill - Pat Nevin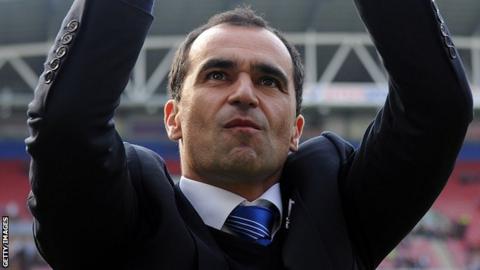 Everton's new manager will have "even bigger shoes to fill" than David Moyes has as Sir Alex Ferguson's successor at Manchester United, says former Toffees winger Pat Nevin.
Chairman Bill Kenwright will be talking to Wigan boss Roberto Martinez about replacing Moyes in "the next 48 hours" after saying the Spaniard is on a list.
"A lot are saying the shoes of Ferguson are very big to fill," said Nevin.
"In some ways though the shoes of David Moyes are even bigger to fill."
The Scot is officially due to take over from Ferguson, whose Old Trafford tally includes 13 Premier League titles and two Champions League triumphs, on 1 July.
Martinez, 39, was given permission to leave Wigan on Tuesday and will hold talks with Everton about succeeding Moyes, who is bringing to an end an 11-year stint at Goodison Park.
The Blues have only finished outside the top half of the table in two of Moyes' 11 full seasons in charge, finishing eighth or above in every campaign since 2007, despite limited financial power.
"Under David Moyes, Everton over performed year on year," said Nevin, who made more than 100 appearances for Everton between 1988 and 1992. "If you come in and get fifth, sixth or seventh, you will just have done as well as David.
"Anything lower than that - which is probably more realistic financially - and it will almost be seen as a failure, although I would not see it that way.
"But that is the size of the task ahead for whoever comes in as Everton manager."
Everton chairman Kenwright said on Wednesday he would meet Martinez in "the next 48 hours" but that he was just one on a list of potential candidates.
Former Swansea manager Martinez joined Wigan in June 2009, and was a target for Aston Villa in June 2011 but opted to stay with the Latics. He was also strongly linked with the Liverpool job last summer.
Under the Spaniard, Wigan finished 16th twice and 15th before slipping to relegation this season, although the Latics won the FA Cup and continued to attract praise for their style of play.
Nevin said: "Personality-wise, Roberto would fit with Bill Kenwright. People make decisions not only on who would be good for the club but also on who they would be able to work with. That is more important than some give him credit for.
"He has shown he is capable of being very, very adaptable. In his early games at Wigan, I remember seeing them at Goodison and they were bordering on the thuggish. That shows his adaptability.
"But, very, very quickly he will build the club around his system. He likes playing a brand of football that is pleasing on the eye, perhaps even more than Moyes.
"I would not be surprised if Roberto was the next Everton manager. There are other great candidates around though, like Steve Clarke, David Weir and Phil Neville."