Brazil v England: Scolari's side under microscope at Maracana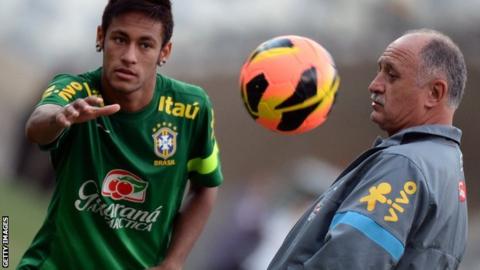 Brazil v England
Venue:

Maracana Stadium

Date:

Sunday, 2 June

Kick-off:

20:00 BST

Coverage:

Live commentary on BBC Radio 5 live, live text commentary on BBC Sport website
John Barnes danced past some top-class defenders to score that legendary goal in the Maracana in 1984 - and Mark Hateley climbed above some of them to head the second in England's 2-0 victory.
But as England prepare for their first visit to the new Maracana on Sunday - after the game finally got the go-ahead following safety fears - they can expect a very different sort of encounter.
For all the undoubted talent and experience on display, it would be a mistake to regard the team that lost to the Three Lions on 10 June, 1984 as a fully fledged Brazil side.
In those days, there was no real concept of a permanent Brazilian XI. Squads were brought together for specific tournaments and Brazil's previous game had come in the Copa America over seven months earlier. They were not really in serious action again until some warm-ups for their 1986 World Cup qualifiers the following April.
So while, for England, the 2-0 win had undeniable significance - Bobby Robson's side were coming off a bad run, and winning in such style in such a location proved a key step along the road to the 1986 World Cup quarter-finals, and the semis four years later - for Brazil, the match was an irrelevance.
That is emphatically not the case with Sunday's meeting, England's first trip to Rio since that famous night 29 years ago.
It is fair to say that, for Luiz Felipe Scolari and his men, the 2014 World Cup starts here. June is the crunch month, with a friendly against France and the Confederations Cup in addition to the England game.
This is the time that Scolari will have together with his players. He will expect to use it to sort out his team and his tactics for next year's supreme challenge, a first home World Cup since 1950.
And he starts under pressure.
Not since 2009 have Brazil beaten a team they consider a true heavyweight (England in Doha if we are being charitable; if not, a couple of wins over Italy, including one in that year's Confederations Cup).
This leaves Scolari, in his second spell in charge of the national team, and his men with a huge task in front of them. If playing at home next year is really going to be an advantage, then Brazil need to have the fans behind them. But Brazilian crowds can turn on their own team with the fury and bitterness of spoilt children. And the Maracana is known for being especially vicious.
I well recall the media conference held after Brazil had been fortunate to draw 1-1 with Uruguay in a World Cup qualifier 13 years ago. Coach Vanderley Luxemburgo talked about how scared his players had been of the crowd's reaction, and how after the game some of them had begged him to find a different venue for future matches.
Older members of the Maracana crowd grew up watching the greats, and waste no time informing contemporary players that they are falling short of the required standard. Few are spared - especially if they come from Sao Paulo. The great Cafu has never forgotten the way the Maracana turned on him in a friendly against Argentina shortly before the 1998 World Cup.
But if Scolari is looking for a more positive precedent, he can find it in England's Maracana debut in May 1959.
A year earlier Brazil had won their first world title, with local hero Garrincha turning on the style. A huge crowd gathered to watch him, and they were not pleased when the news emerged that he had not been selected. To make matters worse, his replacement on the right wing was Julinho, from Sao Paulo. He became the focus of the crowd's displeasure.
But Julinho was a great player in his own right. He had been named the best right winger of the 1954 World Cup, and though he was initially disconcerted by the crowd's reaction, he soon set about winning them over. Within two minutes he had given Brazil the lead - and he quickly set up the second in his team's 2-0 victory. Jeers turned to applause.
This is the lesson Scolari will be trying to impress on his men. In the last few months, both in Sao Paulo and in Belo Horizonte, Brazil crowds have even turned on Neymar. Playing at home could easily become a disadvantage.
But with strength of character and strength of performance, there is nothing to fear. Fifty-four years on, Scolari needs an entire team of Julinhos to thrive in the famous Maracana atmosphere.
But what will that atmosphere be like in the new Maracana?
This is the first proper game since the stadium's vastly expensive rebuilding. Safety concerns at the stadium on Thursday led to the match being temporarily suspended; the decision was reversed hours later, with the Rio government saying it had failed to deliver a safety report due to a "bureaucratic flaw".
The stadium looks modern, impressive - but some fear it might be a soulless, anywhere arena lacking the character of the old Maracana.
Brazil has new stadiums opening up and down the country, and there are fears, explicitly voiced on a radio show I did last week, that the country might be over-reaching itself by attempting to import an alien culture of fan behaviour.
There will certainly be changes - on Sunday, for example, Brazil supporters will not be able to take musical instruments into the ground - with experience pointing to the conclusion that more comfort often means less atmosphere.
This is where the England fans can come in useful. They can give the locals a masterclass on the pros and cons of the sanitisation process.