Shrewsbury Town: Graham Turner critical of some agents
Last updated on .From the section Football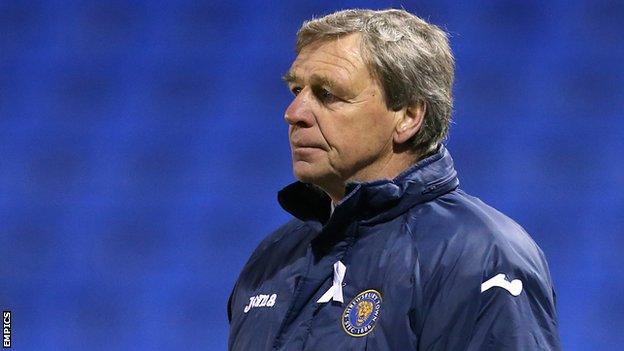 Shrewsbury boss Graham Turner believes there are some agents within the game who are only interested in money.
The 65-year-old feels agents' influence has increased beyond recognition.
"Their influence has increased massively in the game and on players, particularly younger players," he told BBC Radio Shropshire.
"There's some decent agents whose first thought is players' welfare, but there's other agents only interested in where they can make the most money."
Young defender Alex McQuade is the only player that has agreed a move to the Meadow so far this summer as Turner looks to build on Town's 16th-placed finish in League One.
And Turner - in his second spell as Shrewsbury boss - believes his side need to adopt an approach like Yeovil Town, who achieved promotion to the second tier of English football for the first time in their history this term, if they are to be successful.
"We can't afford the top quality first division players that some of the clubs can," Turner commented. "You take Bournemouth last season, who invested a lot of money in getting promotion.
"We're not in the same streets as them. We're more of a Yeovil type set-up. You don't have to pay big money to be successful.
"As long as you've got that spirit and energy in your side, you can be successful.
"It's important to have a business plan and good business practices about the club. We can spend more money than we've got quite readily with the contracts players are asking for.
"But we, like other clubs, are looking at the financial side. If you don't get the money, you don't get the player, but are agents leading you on without being accurate with figures?"