Premier League clubs need more from their managers - Cook
By Richard Conway
BBC Sport
Last updated on .From the section Football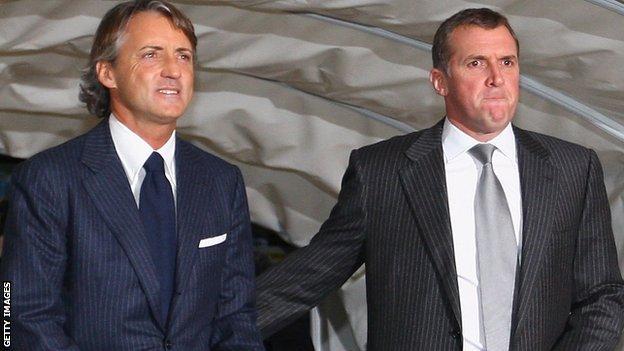 Former Manchester City chief executive Garry Cook says Premier League managers cannot afford to just focus on what happens on the pitch and has backed his old club's "holistic approach" to football in the 21st century.
With football now a global industry worth billions of pounds, the former Nike executive says it is vital players and staff recognise the importance of a club's commercial interests.
"When companies sign an agreement with a club, they want access to the core proposition, which is the talent," said Cook.
"They want the manager, they want the players, so now the players and the manager have to give up time for that.
"It puts a drain on someone who doesn't necessarily understand the need to be a commercial property, doesn't necessarily understand the need to explain themselves in the media, doesn't understand the need to run the business with financial management at the heart of everything they do.
"The holistic element is understanding the way a football club runs, not just how a football team wins games."
The term "holistic" was used by City in the wake of Roberto Mancini's sacking last month.
Explaining their decision to part company with the Italian after three years at the helm, a City statement read: "The club has failed to achieve any of its stated targets this year, with the exception of qualification for next season's Champions League.
"This, combined with an identified need to develop a holistic approach to all aspects of football at the club, has meant that the decision has been taken to find a new manager for the 2013-14 season and beyond."
With Malaga boss Manuel Pellegrini the hot favourite to take over from Mancini, Cook believes City's Abu Dhabi owners are right to expect more from their players and staff after spending more than £1bn to buy and then develop the club.
Cook, who describes City chairman Khaldoon al-Mubarak and owner Sheikh Mansour as "colossal individuals", told BBC Sport: "I don't like the thought of mediocrity and I don't think the owners of Manchester City do.
"They want to win the Champions League. So they should. Every football club should. That's the pinnacle."
City axed Mancini after a season in which his team failed to advance past the group stage of the Champions League and lost their Premier League title to rivals Manchester United by 11 points.
"No-one will be more disappointed than Roberto because he's a passionate man," said Cook.
"Would he feel hard done by? I don't think he'll feel aggrieved. I think Roberto knows the rules. He's been in the game a long, long time."
He added: "The rules of the game in a football club are very easy to manage.
"You need to win games, you need to win trophies, you need to be at the top of the pile. Whatever level of ambition is set, it's your job to meet that ambition."
Cook left City in September 2011 after an email was leaked to a national newspaper in which he mocked cancer sufferer Dr Antonio Onuoha, mother of then-City defender Nedum Onouha.
It is a matter the businessman has previously said he "deeply regrets". Nevertheless, he feels he had a positive impact at the club.
"I had a wonderful experience there," he said. "Personally, it was a challenge. We had to change the culture from one of mediocrity, which was acceptable, to one of future ambition. That's monumental.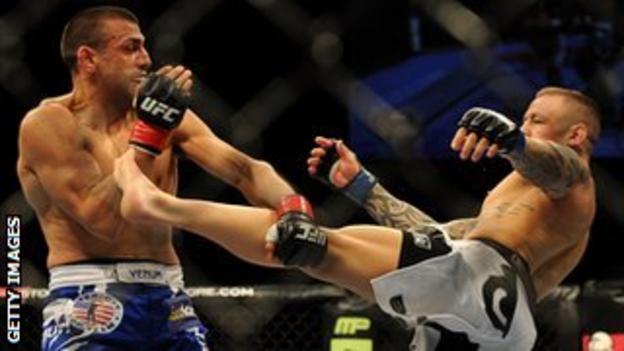 "When I joined, we were 19th in the league and it was very difficult to get people to understand that we could take on the very best. Now they're not satisfied with six appearances at Wembley in three years."
Cook is now back in business as chief executive of the Ultimate Fighting Championship in Europe and has lofty ambitions for the mixed martial arts sport that is already vastly popular in the United States and Brazil.
"I'm intrigued by UFC," he said.
"You can redefine a football club - whether you've got 110 years of history or 200 years of history, you've got something that already exists - but there is no rear-view mirror with UFC.
"You've only got the future to look forward to. You're actually creating the landscape. That's exciting."
With a new TV deal in place, UFC is set to become a lot more prominent in the UK and Europe.
Zuffa, the company which bought the rights to the struggling sport in 2002 for around $2m (£1.5m), has transformed its prospects in just over a decade.
After exponential growth, its investment is now understood to be worth in excess of $3.5bn (£3bn).
The success has been achieved through regular UFC events in which participants, who combine elements of several sports, including Muay Thai kick-boxing, wrestling, judo and boxing, fight in an "octagon".
The competitive - and often brutal - nature of the fights, combined with a transparent path to a championship title, gives it, according to its owners, a competitive advantage over rivals, including boxing.
It is a sport that also has a wide cross-section of support with Cook pointing to figures that show 31% of its fans are women.
Organisers are also proud of a safety record that has seen no recorded deaths, attributed to the fact most fights are won through floor manoeuvres rather than strikes to the head.
Cook is determined to see the sport grow but also wants UFC to attain greater legitimacy and for mixed martial arts (MMA) to become an Olympic sport.
"I'm sure the snowboarders of the world, 30 years ago, were thinking the same thing," said Cook. "They achieved it. I see no reason why we can't."