Michael Laudrup: Swansea need £200m to improve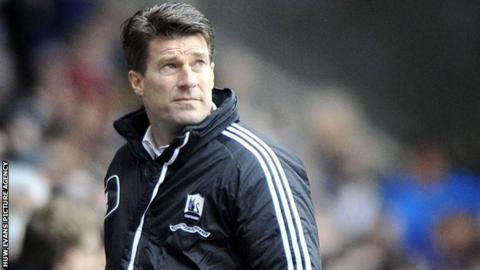 Manager Michael Laudrup believes only a huge financial investment will enable him to improve on Swansea City's ninth-place finish in the Premier League.
He said: "Unless we find a couple of hundred million pounds I think last season we achieved nearly the maximum we can in terms of the table.
"There are always things you can improve, but there are not many higher positions we can look at.
"Even consolidating is going to be very difficult."
Laudrup's first season in charge is being hailed as the most successful in Swansea City's history.
In addition to their ninth-place finish in the Premier League, the Swans won the Capital One Cup, which earned them a place in the Europa League.
However, improving on that success will be a major challenge, according to the 48-year-old, who was appointed manager of Swansea on 15 June 2012 following the departure of Brendan Rodgers to Liverpool.
"Some of the teams below us this season will invest heavily; West Ham, Newcastle, Aston Villa," he said.
"They are huge clubs who want to take the place where we are right now."
Laudrup wants to strengthen Swansea's squad to meet next season's challenge, specifically targeting a striker to share the goalscoring burden with top-scorer Michu.
Swansea, though, have a reputation for financial prudence, which suggests a limited pot for new signings.
Selling Joe Allen, Scott Sinclair and Danny Graham has generated funds for recruitment, and the club are set to face a similar scenario this summer as they decide whether or not to sell Ashley Williams.
The Wales captain is valued at up to £10m and has been heavily linked with a move to Arsenal.
Laudrup's agent, Bayram Tutumulu, told BBC Sport Wales that the manager is committed to Swansea for another year, having signed a contract extension in March until 2015.
However, he added that the extension was signed after the club's board had given assurances about team strengthening.
The situation is further complicated by Laudrup's rising stock as a manager, with his name being linked with jobs across Europe and Tutumlu claiming he has already turned down approaches from major clubs.